Castel San Pietro Tours
Marking the place where Verona was once founded, the Castel San Pietro has an overlook of the city that feels almost royal. Surrounded by tall Cypress trees, it was on this hill that settlement began in the 7th century — ruins of which are still visible today. A church dedicated to Saint Peter was first established here on top of ancient Roman ruins. The fortress that stands today was built during the Austrian occupation, and has kept out intruders and protected the city since then. Though not in use today, it is a scenic spot from which to view Verona.
From the Castel, one can see the whole of the city, the river Adige, and the Ponte Pietra bridge. Winding roads and hills can be seen in the distance beyond the city,. There's even a small view of the Verona Arena. It is particularly beautiful just before sunset.
Practical Info
The Castel San Pietro is located above the Roman Theater on the hill above Verona. It is visible only from the exterior. There are 250 steps to the top of the hill, or you can drive up (parking available.)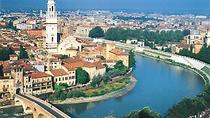 130 Reviews
Experience the perfect introduction to Verona aboard this hop-on hop-off sightseeing tour! You'll see all the beautiful sights of the city in a comfortable and ... Read more
Location: Verona, Italy
Duration: 1 day (approx.)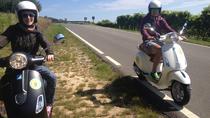 Drive by your own a vintage-stylish Vespa through Valpolicella hills and vineyards, just as the locals do, on this 4-hour small-group tour from Verona. ... Read more
Location: Verona, Italy
Duration: 4 hours (approx.)