No reviews, be the first!
Address:

Piazza Bra, 1, Verona 37121, Italy

Hours:

Tue-Sun: 9:am-7pm , Mon: 1:45pm-7:30pm. Opera season is June through August. Check web site or visit ticket office for times and ticketing

Admission:

€3.10 to enter arena when not in use for opera performances
Verona Arena Tours
There's nothing quite like sitting where you know others have sat and watched performances for two thousand years. The lovely pink marble Roman amphitheatre built in 1AD still proudly dominates the piazza in the middle of Verona, and people still travel from miles around to witness a spectacle; these days it's opera rather than sports, games and gladiatorial battles. The third largest amphitheatre in Italy, Arena di Verona could once seat 30,000, these days its capacity is 15,000.

With the decline of the Roman Empire, the outer walls were ripped down and used for building materials. In the twelfth century, an earthquake damaged the place and it wasn't really until the nineteenth century that there was an interest in using it once more to stage performances. The current incarnation as a major outdoor opera venue began in 1913 with a celebratory mounting of Verdi's Aida to mark 100 years since his birth. Since then four operas have been staged annually from June to August. During the winter months, the local opera and ballet companies use the amphitheatre.

Tickets for the stepped stone seating are cheaper than the cushioned seats on the flat and the view is worth the slight discomfort. At sunset candles are lit and this sight together with the wonderful acoustics make seeing opera here a magical experience.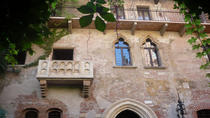 127 Reviews
Explore the beautiful town of Verona and lakeside towns lining Lake Garda on a scenic day trip from Milan. You'll discover that Verona is one of Italy's ... Read more
Location: Milan, Italy
Duration: 12 hours (approx.)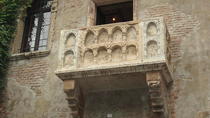 8 Reviews
Discover Verona with your local guide. Follow the footprints left by Shakespeare's Romeo and Juliet and be drawn in by this fascinating city.
Location: Verona, Italy
Duration: 90 minutes (approx.)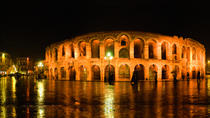 Experience this walking tour and learn about the dark history of Verona. Beginning at either 9am, 5:30pm or 7pm, you will meet your guide at Bra' Square. On ... Read more
Location: Verona, Italy
Duration: 60 minutes (approx.)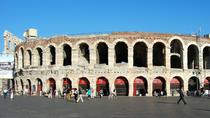 3 Reviews
Transfer with tour leader from Lake Garda to Verona for Arena Opera with entrance ticket included. Customer assistance and information at gate n16.
Location: Garda, Italy
Duration: Flexible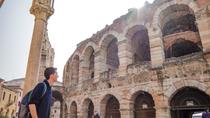 3 Reviews
Meet your guide in central Verona and start your guided tour inside the main monument and symbol of the city of Verona: the Roman Arena. Follow the expert and ... Read more
Location: Verona, Italy
Duration: 30 minutes (approx.)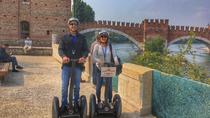 2 Reviews
Segway Tour is a unique and fun way to explore the city. Drive through Verona and discover the most beautiful sights it has to offer. On this tour you will ... Read more
Location: Verona, Italy
Duration: 2 hours (approx.)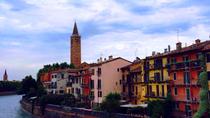 3 Reviews
A guided tour to discover the hidden treasures of Verona, the beautiful city of art surrounded by traces of its ancient history which maintains a suggestive ... Read more
Location: Verona, Italy
Duration: 90 minutes (approx.)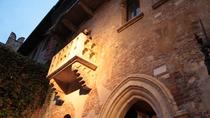 Experience the cobblestone streets and medieval architecture of Verona on a private, 2-hour walking tour. Explore this UNESCO-listed city with a guide ... Read more
Location: Verona, Italy
Duration: 2 hours (approx.)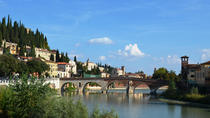 5 Reviews
Leave the Lake Garda region for a full-day tour of Verona, the town synonymous with the romance of 'Romeo and Juliet.' With a guide, you'll explore the jewel ... Read more
Location: Garda, Italy
Duration: 8 hours (approx.)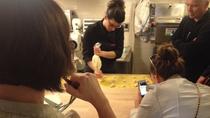 46 Reviews
Experience the divine food and drink of fair Verona on a 3.5-hour small-group food tour. Explore the city of love and uncover its gastronomic delights. Drink ... Read more
Location: Verona, Italy
Duration: 3 hours 30 minutes (approx.)