Verona RECOMMENDATIONS See all
3 Days in Verona: Suggested Itineraries
By Viator, June 2015
No reviews, be the first!
Known as piccola Roma (little Rome) for its importance in imperial days, Verona is all about art and architecture, history and great love. It's hard not to fall in love with this beautiful city.


DAY 1: The City

Verona is a wonderful city to walk around, to soak up the atmosphere, to grab a coffee and people watch, and to shop. Spend your first day getting the feel for the place. Head for the Piazza delle Erbe in the center of town and wander the market, admire the fountain, smell the herbs on the market stalls. For a real sense of the city layout, climb the Lamberti Tower.

When you've had enough coffee here, head through the arch Arco della Costa - if the whale bone falls on your head you are a just person. Don't worry, it didn't fall on anyone else either and it's been there for centuries.

Now you're in Piazza dei Signori, the heart of political toil and strife for centuries. Admire the buildings - mainly the work of the 14th century Lords of Verona, the Scaligeri family. Visit their nearby, rather spooky tombs, then head off across the river to the Castelvecchio, another impressive stronghold built by the Scaligeris. This is now a wonderful art gallery.

For more shopping head to Via Mazzini and Corso Porta Borsari.


DAY 2: History

Although most famous for its history of art, lovers and feuds, Verona is a much older city than that, having been settled by the Romans in 89 BC. The third largest Roman Arena in Italy is here in Piazza Bra and it still hosts performances. Luckily these days tastes run to opera rather than gladiators. If you're here in summer, definitely buy a ticket, take a cushion and experience entertainment as its been watched for millennia.

A smaller but still impressive Roman leftover is the Roman Theatre across the river. This, too, still hosts performances on summer nights and also has an extensive collection of the Roman artefacts found in Verona, displayed in the Archeological Museum. The city still has some of its Roman gates: Porta Bra and Porta Borsari, and Gavi Arch is worth a look.

Not so ancient but just as interesting are Verona's many churches. Don't miss the Duomo di Verona, the 12th century cathedral.


DAY 3: Romeo and Juliet

The inescapable fact and fame of Verona is that it was home to the world's most famous lovers: Romeo and Juliet. Whether they really lived or not is still debated, but it seems likely they did and were members of the warring Capuleti and Montecchi families.

One of the most popular pilgrimage sites in the city is Juliet's house (Casa di Giulietta) on Via Capello; also, Juliet's tomb at the Museum of Frescoes G B Cavalcaselle. For diehard fans, search out Romeo's house at 4 Via delle Arche Scaligeri (a private residence) and visit Bra Gate through which Romeo was exiled. If you're really serious about love, you can get married at Juliet's house or, indeed, at her tomb.

If your heart lies more in this century, skip town for the day and tour the extensive vineyards of Verona's famous wine country.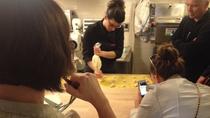 47 Reviews
Experience the divine food and drink of fair Verona on a 3.5-hour small-group food tour. Explore the city of love and uncover its gastronomic delights. Drink ... Read more
Location: Verona, Italy
Duration: 3 hours 30 minutes (approx.)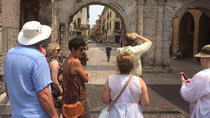 63 Reviews
2.5-hour walking tour of Verona's city center Main monuments visited: Arena, Juliet'House, Castelvecchio, Ponte Pietra, Piazza erbe and the squares Explore the ... Read more
Location: Verona, Italy
Duration: 2 hours 30 minutes (approx.)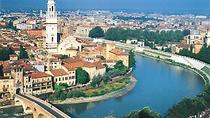 130 Reviews
Experience the perfect introduction to Verona aboard this hop-on hop-off sightseeing tour! You'll see all the beautiful sights of the city in a comfortable and ... Read more
Location: Verona, Italy
Duration: 1 day (approx.)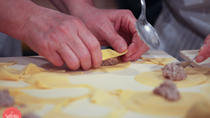 40 Reviews
Learn the secrets of Italian cuisine during this hands-on cooking class at a beautiful, brand new venue in central Verona. With an experienced Italian chef by ... Read more
Location: Verona, Italy
Duration: 3 hours 30 minutes (approx.)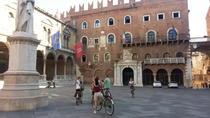 60 Reviews
Discover Verona by bike on this leisurely paced 3-hour bike tour. Pedal to must-see attractions and hidden sights including Castelvecchio, two ancient Roman ... Read more
Location: Verona, Italy
Duration: 3 hours (approx.)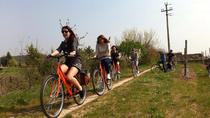 14 Reviews
Hop on a E-bike for a ride into the vineyard-covered hills of Valpolicella on this 4-hour tour from Verona. Pair your scenic bike ride with a relaxing ... Read more
Location: Verona, Italy
Duration: 4 hours (approx.)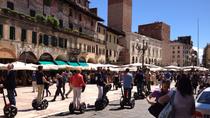 7 Reviews
Experience the perfect overview of Verona by Segway on a tour that's far easier than walking and more unique and private than a coach tour. This amazing ... Read more
Location: Verona, Italy
Duration: 3 hours (approx.)