"O Romeo, Romeo! wherefore art thou Romeo?
Deny thy father and refuse they name.
Or if thou wilt not, be but sworn my love
And I'll no longer be a Capulet."
-William Shakespeare, Romeo and Juliet, 2.2

It's our favourite tragic love story, and most likely actually true. Shakespeare wrote his famous play, Romeo and Juliet, in the 1590s, but he based it on an English novel which was based on an English poem, which was based on an Italian history which was written down from oral storytelling which was passed down by generations over centuries. Even the famous Italian poet Dante wrote about Romeo and Juliet at the time the great love happened, in the early 1300s.

In that first decade of the 14th century, there were indeed two noble families in Verona called the Capuleti and the Montecchi; in English, the Capulets and Montagues. At the time, Verona was deeply divided into two warring factions: the Guelphs and the Ghibellines - the first backed the Pope, the other the Emperor. The story goes that a daughter and a son from these families did indeed fall in love and their families did not approve, leading to a tragic ending. It did not stop the factions of Verona fighting though, and the city continued in its political turbulence.

The house of the Capulets, Juliet's house (Casa di Giulietta) is said to be that of the della Capello family on Via Capello. Head here to see a statue of Juliet in the courtyard below the famous balcony where she and Romeo declared their love. Unfortunately, this current balcony is a 20th century addition to the house, but that does not mean there was not a balcony on the house in centuries past. The entrance way to the house is one of the world's most romantic sites, with love notes stuck to the walls (often using chewing gum which dulls the romance a little). On Mondays, the house is closed to the public but open to those who want to get married! Book at Verona City Hall.

Romeo's house (that of the Montecchi family) is still in private hands, so there is little to mark it but a small plaque on the wall. It's in central Verona, at number 4 Via delle Arche Scaligeri, and looks suitably like a castle.

Juliet's tomb is a major pilgrimage site, although it has been destroyed and rebuilt often over the centuries. This is where she drank the poison and where - although she should not rightly have been buried on consecrated ground due to her suicide - the monks of San Francesco al Corso took pity on her. This is also the the church where the lovers reputedly got married. These days it is the Museum of Frescoes G B Cavalcaselle - paintings have saved the site for us. Here, too, on several days of the week, you can get married.

The final pilgrimage site in Verona is the city gate, Bra Gate, through which Romeo is said to have left the city when he was exiled. On one wall is a marble tablet, with an inscription of Shakespeare's words about Romeo's being exiled from his city of birth.

Romeo and Juliet (or Giulietta and Romeo in Italy) are difficult to escape in Verona. There are hotels and cafes named after them all over the place. But who would want to escape this greatest of great love stories?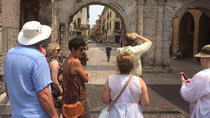 66 Reviews
2.5-hour walking tour of Verona's city center Main monuments visited: Arena, Juliet'House, Castelvecchio, Ponte Pietra, Piazza erbe and the squares Explore the ... Read more
Location: Verona, Italy
Duration: 2 hours 30 minutes (approx.)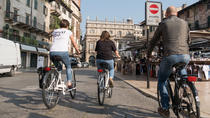 60 Reviews
Discover Verona by bike on this leisurely paced 3-hour bike tour. Pedal to must-see attractions and hidden sights including Castelvecchio, two ancient Roman ... Read more
Location: Verona, Italy
Duration: 3 hours (approx.)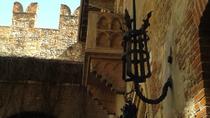 1 Review
In this breath-taking 1-hour tour you'll first see some of the locations of the movie "Letters to Juliet", then the famous Juliet's Club, where volunteers ... Read more
Location: Verona, Italy
Duration: 60 minutes (approx.)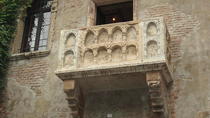 9 Reviews
Discover Verona with your local guide. Follow the footprints left by Shakespeare's Romeo and Juliet and be drawn in by this fascinating city.
Location: Verona, Italy
Duration: 90 minutes (approx.)
Verona Walking tour + Skip-the-line Verona Arena guided tour Discover in two and half hours the spectacular city of Verona, a UNESCO heritage site and the ... Read more
Location: Verona, Italy
Duration: 3 hours (approx.)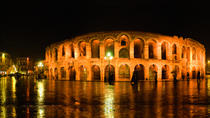 3 Reviews
Experience this walking tour and learn about the dark history of Verona. Beginning at either 1.45pm, 5:30pm or 7pm, you will meet your guide at Bra' Square. ... Read more
Location: Verona, Italy
Duration: 78 minutes (approx.)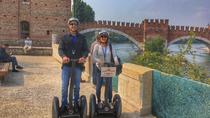 3 Reviews
Segway Tour is a unique and fun way to explore the city. Drive through Verona and discover the most beautiful sights it has to offer. On this tour you will ... Read more
Location: Verona, Italy
Duration: 2 hours (approx.)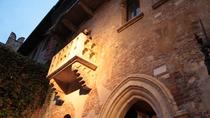 Experience the cobblestone streets and medieval architecture of Verona on a private, 2-hour walking tour. Explore this UNESCO-listed city with a guide ... Read more
Location: Verona, Italy
Duration: 2 hours (approx.)
2 Reviews
Enjoy the beautiful city of Verona with this city pass available for 24 or 48 hours Enter the scenographic Arena Amphitheatre, step out onto the legendary ... Read more
Location: Verona, Italy
Duration: 24 to 48 hrs
Discover the locations of the movie "Letters to Juliet" in the beautiful Verona. Follow your guide through the most romantic and meaningful places of Romeo ... Read more
Location: Verona, Italy
Duration: 75 minutes (approx.)