Victoria Beacon Hill Park
Victoria's largest parklands sprawl to the waterfront at Beacon Hill Park. Surrounded by grand homes and gardens, the 75-hectare (200-acre) park is an oasis of towering trees, seasonal flowers, tranquil ponds and joggers' pathways. Look out for ...
Viewing All 1 Photos
Certified photos by travelers like you.
Anonymous
May 2011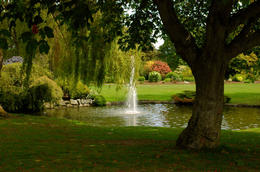 Peaceful park with fountain: Beacon Hill Park