The Great Ocean Road is one of the world's most impressive coastal drives, but it's also an important part of Australia's maritime heritage, dotted with landmarks and legendary shipwrecks. Here are some maritime spots to add to your itinerary.
Loch Ard Gorge
Just minutes from the famous Twelve Apostles, the wild coastal cliffs of Loch Ard Gorge are among the most notorious of the Shipwreck Coast. As well as affording spectacular views along the Great Ocean Road, it's also the site of the Loch Ard shipwreck, wrecked in 1878 off Mutton Bird Island.
Flagstaff Hill Maritime Museum
Learn more about the Loch Ard shipwreck at the nearby Flagstaff Hill Maritime Museum, where the highlight is an evening reenactment of the infamous shipwreck, complete with dramatic sound and light effects.
Cape Otway Lighthouse
Australia's oldest and most important lighthouse was dubbed a "beacon of hope" for sailors and seafarers traversing the treacherous rocks of Cape Otway. Today, visitors can explore inside the historic lighthouse and radar station, take in the views from the top of the tower, or even spend a night in the lightkeeper's cottage.
Queenscliff
Perched on the coast between Swan Bay and Port Phillip Bay, Queenscliff boasts a number of heritage buildings and historic fishermen's cottages, but the main reason for a visit is the Queenscliff Maritime Museum, home to an impressive collection of shipwrecks, maritime relics, and early diving equipment.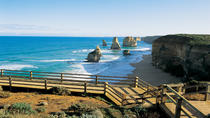 512 Reviews
Soak up the sights of Australia's most scenic drive on a Great Ocean Road day trip from Melbourne. Follow the winding coastal road from Torquay to Port ... Read more
Location: Melbourne, Australia
Duration: 12 hours (approx.)
127 Reviews
Travel along the Great Ocean Road, see Phillip Island's little penguins and visit your favorite Melbourne city sights! This super saver combines Melbourne's ... Read more
Location: Melbourne, Australia
Duration: Varies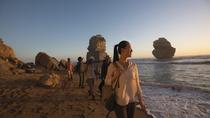 101 Reviews
Spend the day exploring the Great Ocean Road, and later enjoy the amazing views of one of the most famous and scenic coastal stretches in the world as the sun ... Read more
Location: Melbourne, Australia
Duration: 14 hours (approx.)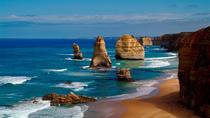 12 Reviews
Enjoy a drive along one of the world's most legendary touring routes on a Great Ocean Road private tour from Melbourne. Combining vistas of beaches and ... Read more
Location: Melbourne, Australia
Duration: 11 hours (approx.)
1 Review
Go road-tripping along the Great Ocean Road, discover colonial history and gorgeous beaches on the Mornington Peninsula, and visit popular Melbourne city ... Read more
Location: Melbourne, Australia
Duration: Varies