One of Europe's great rivers, the Danube wends from Germany to the Black Sea, passing through four capital cities: Budapest in Hungary, Bratislava in Slovakia, Belgrade in Serbia, and Vienna in Austria. Here's what you need to know about Danube cruises from Vienna, which provide easy access to some of the river's most scenic stretches.
Highlights
Float along the Danube, a river immortalized by Austrian composer Johann Strauss in his famous waltz, "On the Beautiful Blue Danube."

Identify key landmarks along the Viennese waterfront, such as the Danube Tower (Donauturm), Millennium Tower, Ring Tower (Ringturm), and Urania Observatory, during a Danube Canal or Danube River cruise.

Listen to live commentary that sheds light on the history and evolution of Vienna.

Sail by architectural landmarks, such as the Zaha Hadid-designed house and the colorful Friedensreich Hundertwasser-designed Spittelau waste incineration plant.

Enjoy traditional Austrian food, including Viennese coffeehouse pastries, and music on board during dinner cruises.

Combine a cruise along the Danube with dinner in a Viennese restaurant and classical music concert in Schönbrunn Palace, featuring live music from the likes of Strauss and Mozart for the ultimate Vienna experience.

Float away from Austria all the way to Bratislava, the capital of Slovakia, where you can view Bratislava Castle, St. Martin's Cathedral, and more.

Opt for an evening boat tour to see the sparkling Vienna skyline illuminated after dark.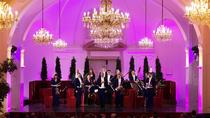 50 Reviews
Enjoy a day in Vienna with a Johann Strauss twist as you combine a Danube River cruise with a classic evening of Austrian food and music! Thanks to Strauss' ... Read more
Location: Vienna, Austria
Duration: Flexible
GRAND DANUBE RIVER CRUISE Discover Vienna from the waves, on board of the ships MS Vindobona (designed by Friedensreich Hundertwasser) and MS Wien. Relax ... Read more
Location: Vienna, Austria
Duration: 3 hours 30 minutes (approx.)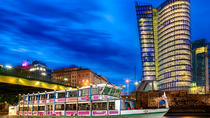 6 Reviews
Following the Wiener Lied , the typical song from Vienna, the cruise is dedicated to music and to culinary delights.
Location: Vienna, Austria
Duration: 3 hours (approx.)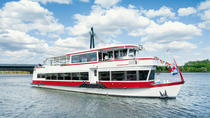 11 Reviews
Explore the Austrian capital from the water on this 75-minute Danube Canal sightseeing cruise in Vienna. Choose the tour time to suit your schedule, then ... Read more
Location: Vienna, Austria
Duration: 75 minutes (approx.)
The MS Wien of the DDSG Blue Danube departs to linger for an evening round trip. Let the evening fade away to relax and enjoy the sunset on the spacious ... Read more
Location: Vienna, Austria
Duration: 3 hours (approx.)
1 Review
Comfortable transport from Vienna to the Wachau-Valley by bus to discover the World Heritage Site by boat and then back to Vienna. Enjoy a day trip to the ... Read more
Location: Vienna, Austria
Duration: 5 hours 30 minutes (approx.)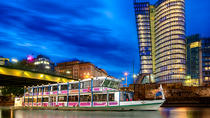 54 Reviews
Spend an unforgettable evening in Vienna on this Danube River cruise! Meet at a central location, board the cruise and enjoy a dinner buffet of Austrian ... Read more
Location: Vienna, Austria
Duration: 3 hours 30 minutes (approx.)
Take the MS Blue Danube on the Danube Canal and enjoy a 2-course lunch menu. Whether as a tourist during a city walk or as a business lunch with colleagues and ... Read more
Location: Vienna, Austria
Duration: 75 minutes (approx.)
The perfect start to the summer Sunday with a rich breakfast buffet! The gastronomy on board under the direction of Roman Loos ready for you a colorful ... Read more
Location: Vienna, Austria
Duration: 90 minutes (approx.)
Take the ships of the DDSG Blue Danube through the beautiful Wachau. The ship leaves in Krems in a round trip and arrives about 5 hours later at the starting ... Read more
Location: Krems an der Donau, Austria
Duration: 5 hours (approx.)