Vienna RECOMMENDATIONS See all
Empress Sisi's Vienna
By Viator, August 2017
No reviews, be the first!
A revered beauty whose fashion forward clothing and unconventional ways were ahead of her time, Empress Sisi was a much-celebrated public figure during her life in Vienna, renowned for her liberal politics and bold disregard for the pompous rituals of the era's government.

Born in 1837 and raised in Bavaria, Duchess Elisabeth Amalie Eugenie (known to her friends as Sisi) shot to fame and fortune when she married Emperor Franz Joseph I, affording her the title Empress of Austria (and later, Hungary). After her 1854 wedding, the Empress moved to Vienna, where she quickly made a name for herself with her much sought-after dresses (designed to emphasize her tiny waistline), floor-length hair (worn in elaborate braids across her head) and spirited independence gaining her a legion of fans among the people of Austria. Her life, equally inspirational (Sisi was an avid traveler, accomplished horsewoman and talented athlete) and tragic (she lost two of her four children and was shunned by her disapproving Mother-in-law), ended with her untimely assassination by an Italian anarchist in 1898.

Today, Sisi's spirit lives on in Vienna, with her life immortalized in the popular German-language musical Elisabeth and the architectural delights of the Habsburg Empire now popular tourist attractions. Visitors to Vienna can walk in the footsteps of Empress Sisi through the historic old town and visit her one-time residences at the magnificent baroque Schönbrunn, Belvedere and Imperial Palaces. The Sisi Museum, housed in the Imperial Palace, is devoted to her legacy, showcasing some of her most famous portraits, personal objectsincluding her Hungarian coronation dress and a collection of jewelry—and handwritten poetry. Here, the public can also explore the rooms of the regal couple, view the renowned Imperial Furniture Collection, sourced from the couple's many homes and wander the famous 'Sisi Path' at the Imperial Carriage Museum.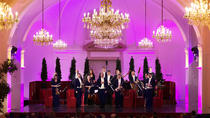 4 Reviews
Live like Empress Elisabeth of Austria for a day! With this combination sightseeing package, experience imperial Vienna through the eyes of this legendary ... Read more
Location: Vienna, Austria
Duration: Flexible