Vietnam RECOMMENDATIONS See all
Day Trip to the Thanh Tan Hot Springs
By Viator, September 2015
No reviews, be the first!
One of the best ways to escape the hustle of Hue is with a day trip to the Thanh Tan Hot Springs. Located 13 kilometers north of the city, this relaxing retreat offers natural views, fresh mountain air, and healing waters rich in calcium and sulfur (but miraculously, without the smell). Discovered in 1926, Thanh Tan Hot Springs is believed to have medicinal effects on all those who venture to take a dip. Skeptics find warm waters wash away the stresses of daily life at the very least. Springs are divided according to heat level. Several smaller wave pools, water massage pools, and even a large pool and waterslides are available for swimming as well.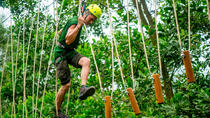 Enjoy this day trip from Hue to Thanh Tan, where you can enjoy a relaxing hot-spring along with some adventurous ziplining.
Location: tp. Huế, Vietnam
Duration: 8 hours (approx.)