No reviews, be the first!
Address:

Colline du Mardasson, 5, Bastogne, Wallonia 6600, Belgium

Hours:

Feb–Jun, Sept–Dec Tue–Sun 9.30am–6pm; Jul–Aug daily 9.30am–7pm
Mardasson Memorial Tours
Bastogne is a Walloon town in southern Belgium and it was scene of one of the most notorious struggles of World War II: the Battle of the Bulge took place in winter 1944–45 between the retreating Nazis and US troops during the final, ill-fated German offensive against the Allies. Most of the town's attractions relate to this landmark battle, including the star-shaped Mardasson American War Memorial, which pays homage to the 80,000 US soldiers killed or wounded between December 1944 and the end of January 1945 in the closing days of the war.
Inaugurated in 1950, the white marble mausoleum was designed by Belgian modernist architect Georges Dedoyard to represent the five-pointed stars on the US flag, supported by slender columns and with a memorial garden at its heart. Inscriptions on the walls of the monument depict the insignia of the American battalions involved in the fighting and the names of the (then) 48 states of the USA. A subterranean crypt has three altars for multi-denominational prayers and is decorated with glittering mosaics by French artist Fernand Léger. Accessible by spiral
staircase, views from atop the memorial take in the rolling Ardennes countryside and the Wood of Peace, planted in 1994 to commemorate the 50th anniversary of the Battle of the Bulge; plaques on the roof terrace indicate the layout of the battlegrounds.
Practical Info
Colline du Mardasson, 5, 6600 Bastogne. Open Feb–Jun,
Sept–Dec Tue–Sun 9.30am–6pm; Jul–Aug daily 9.30am–7pm. Entrance to the memorial is free. The museum is best reached by road and is under an hour from Luxembourg, Namur and Liège.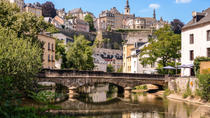 12 Reviews
Leave Brussels in Belgium and visit Luxembourg to experience two different countries in one day! With a private guide, travel through the small country and ... Read more
Location: Brussels, Belgium
Duration: 11 hours (approx.)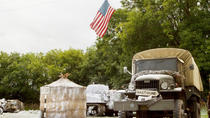 10 Reviews
Travel back to 1944 to one of Europe's bloodiest conflicts on this day trip from Brussels to Belgian's forested Ardennes region, site of World War II's Battle ... Read more
Location: Brussels, Belgium
Duration: 13 hours 30 minutes (approx.)
Come and join us into the Ardennes Battlefields, to what is now the largest battlefield area in Europe. It will be a day you won't forget.
Location: Brussels, Belgium
Duration: 10 hours (approx.)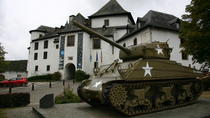 This full day tour will show you the combat lines during the battle of Bulge, both in the North (Belgium) and South (Luxembourg) Ardennes. Departing from ... Read more
Location: Brussels, Belgium
Duration: 12 hours 30 minutes (approx.)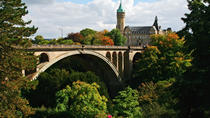 504 Reviews
Make the most of your time in Brussels and uncover thousands of years of European heritage on this full-day Luxembourg day trip from Brussels. Explore old and ... Read more
Location: Brussels, Belgium
Duration: 11 hours (approx.)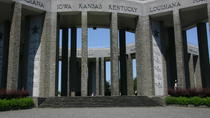 12 Reviews
Learn all about the Battle of the Bulge -- the massive surprise German offensive near the end of World War II -- on this moving and enlightening private tour ... Read more
Location: Brussels, Belgium
Duration: 12 hours (approx.)