Warsaw Jewish Ghetto (Getto Zydowskie) Tours
The Warsaw Jewish Ghetto - or Getto Zydowskie - is considered to be one of the most haunting and historically poignant places to visit in all of Poland, and for good reason. Before World War II, there were over 400,000 Jews living in Warsaw, and by 1942, all members of the Jewish community were forced into the German-constructed ghetto, demarcated by a 10-foot-high (3-meter high) wall circling around a specified sector of the Jewish district. 
In addition to being the restrained living quarters of the Jewish community during the Nazi occupation, the Jewish Ghetto was also the place from which thousands of men, women, and children were dispatched to the Treblinka Concentration camp in the summer of 1942, which, in turn, led to the Ghetto Uprising. 
While the majority of the wall was destroyed in the Warsaw Ghetto Uprising, three sections still stand and are not to be missed. Other important places to visit include the Monument of the Killed and Murdered in the East, the Warsaw Uprising Monument, the Umschlagplatz Monument, and the Monument to the Ghetto Heroes, which marks the center of the ghetto. 
Practical Info
The Jewish Ghetto was constructed between ul. Towarowa, ul. Okopowa, ul. Slominskiego, ul. Gen. Andersa, ul. Swietokrzyska, and Jana Pawla II Avenue, with the center being designated by the Monument to the Ghetto Heroes. 
For more historical and touristic information, visit the Jewish Historical Institute Gallery, which was built on the site of the Great Synagogue, destroyed in the Ghetto Uprising. 
If you're taking public transportation, take the 1, 22, or 27 tram to the Cm. Zydowski stop, which leaves you off on Okopowa.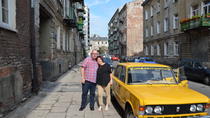 30 Reviews
Trace the story of Warsaw's Jewish community on this 4-hour private tour, by chauffeured vintage Fiat 125p. With insightful running commentary from your ... Read more
Location: Warsaw, Poland
Duration: 4 hours (approx.)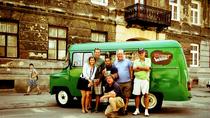 24 Reviews
First time visitors of Warsaw do not want to miss this opportunity to go on a tour back in time to experience historic Poland. Your expert guide will take you ... Read more
Location: Warsaw, Poland
Duration: 4 hours (approx.)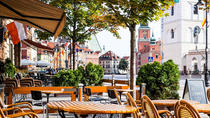 14 Reviews
Tour the beautiful city of Warsaw in a comfortable 18-passenger air-conditioned coach. Relax and enjoy a small-group tour for a more personalized experience ... Read more
Location: Warsaw, Poland
Duration: 3 hours (approx.)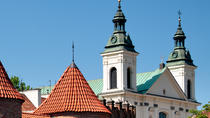 3 Reviews
Tour the beautiful city in a comfortable air-conditioned coach on this 3-hour guided tour. Relax and enjoy the touring in a small group for a more personalised ... Read more
Location: Warsaw, Poland
Duration: 3 hours (approx.)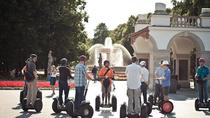 1 Review
Hop aboard your own personal Segway for a 3-hour small-group romp through Warsaw's historic highlights, led by a certified local tour guide. You'll see the ... Read more
Location: Warsaw, Poland
Duration: 3 hours (approx.)