144 Reviews
Address:

100 Constitution Avenue NE, at 1st Street NW, Capitol Hill, Washington D.C. 20002, USA

Hours:

Mon - Sat 8:30am - 4:30pm

Admission:

Free
There's nothing quite like the majestic sight of the US Capitol building, with its towering 285-foot (86-meter) cast-iron dome topped by the bronze Statue of Freedom, ornate fountains and marble Roman pillars set on sweeping lawns and flowering gardens.

The political center of the American government and geographic center of Washington DC itself, the Capitol of the United States overlooks the National Mall and the wide avenues flaring out to the city beyond. The structure houses the legislative branch of Congress and is home to the Senate, which meets in the north wing, and the House of Representatives, which meets in the south wing. When either body is in session, a flag is raised above the appropriate wing; try to visit when both are in session.
Inside the grand halls and opulent chambers, travelers can really immerse themselves in the building's (and the country's) history. The centerpiece of the Capitol is the magnificent Rotunda, with its Constantino Brumidi frieze around the rim that replays more than 400 years of American history. Look up into the eye of the dome for the Apotheosis of Washington, an allegorical fresco by the same artist. Other eye-catching creations include enormous oil paintings by John Trumbull, depicting scenes from the American Revolution.
Practical Info
The Capitol Visitor Center is located on East Capitol Street at First Street NW. Although the coveted tickets to the Capitol go on sale 120 days in advance, reserved entry can also be booked via a Viator VIP experience.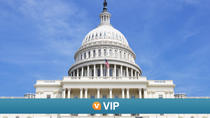 485 Reviews
Experience Washington DC's most sought-after attractions like a true VIP insider. Beat the long lines and enjoy reserved entry to the US Capitol Building for a ... Read more
Location: Washington D.C., District of Columbia
Duration: 8 hours (approx.)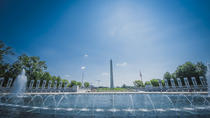 31 Reviews
Avoid long entry lines and see some of the most popular attractions in Washington DC on this full-day sightseeing tour. Enjoy priority access to the United ... Read more
Location: Washington, District of Columbia
Duration: 8 hours (approx.)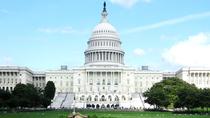 Explore the best of Washington DC on this 5-hour tour including reserved entrance to the Capital Building! After an in-depth tour of the Capitol, you'll ... Read more
Location: Washington, District of Columbia
Duration: 5 hours (approx.)
9 Reviews
Day or night, customize your itinerary from a list of the most popular sites around the greater DC area while being chauffeured like a celebrity in a  Mercedes ... Read more
Location: Washington, District of Columbia
Duration: 4 hours (approx.)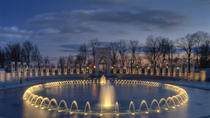 3 Reviews
This DC night tour is a duration of 3 hours. Stops include popular site such as The Capital, White House, World War ll Memorial, Vietnam War Memorial and the ... Read more
Location: Washington, District of Columbia
Duration: 3 hours (approx.)
6 Reviews
Explore the famous landmarks and monuments of Washington, DC on this guided, 3-hour, walking and riding sightseeing tour. Hop aboard a deluxe motor coach and ... Read more
Location: Washington, District of Columbia
Duration: 3 hours (approx.)
1 Review
Explore the popular monuments in Washington, DC with this guided, 3-hour tour of the National Mall at night. Hop aboard a deluxe motor coach and enjoy an ... Read more
Location: Washington, District of Columbia
Duration: 3 hours (approx.)
Enjoy all the sites of our nation's capital from the luxury of your premium Sedan, SUV, or a 15-passenger van on a 2 hour guided tour of Washington DC. Start ... Read more
Location: Washington, District of Columbia
Duration: Flexible
2 Reviews
Visit Arlington National Cemetery and explore some of the most-famous monuments and memorials around Washington, DC on this guided, half-day sightseeing tour. ... Read more
Location: Washington, District of Columbia
Duration: 5 hours (approx.)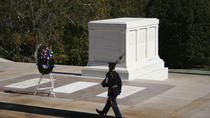 4 Reviews
Embark on a 6-hour small-group sightseeing tour of Washington DC, which includes a narrated trolly ride through Arlington National Cemetery. Visit some of the ... Read more
Location: Washington, District of Columbia
Duration: 6 hours (approx.)