Washington, DC's nightlife scene has never been as exciting as in recent years. The city has experienced a gigantic boom in fresh, edgy, upscale, and urban chic bars, clubs, and concert venues. DC nightlife changes by neighborhood; each has its own vibe"and scene that it attracts. Here's a breakdown of nightlife in DC by neighborhood, with a few "top shelf" spots in each one.  

Capitol Hill
Kick back after a long day or week of work with a brew at one of the many bars in Capitol Hill. Cozy up to the bar, and chances are high your stool neighbor works on the Hill as a Congressional staffer, or on a lucky day, maybe even a Congress person. This neighborhood caters to young professionals looking to unwind. Popular bars include the upscale Harold Black, the neighborhood's first speakeasy, and Tune Inn, a dive bar with enough history to keep you coming back to learn more.

Downtown
DC's commercial downtown appeals to tourists staying nearby and white collar professionals with high-class hotel bars and some of the city's best restaurants. After work happy hours are popular here, as well. The two nightlife standouts are easy: the P.O.V. rooftop terrace at the W Hotel provides one of the greatest views of the city - including the White House and the monuments on the National Mall lit up at night; and Off the Record is the lounge to be and be seen.

Dupont
Trendy Dupont Circle attracts a vibrant 20-something crowd. Partiers flock to Front Page, a large bar with excellent nightly drink specials, games, and bar food, to start drinking as early as 5pm and end the night at Level One, a popular, three-storied gay dance club, in the wee hours of the morning. Dupont has a few upscale options as well, including the popular wine bar Veritas, whose eclectic wine reads like a book.

Logan Circle/14th Street
The conjoined neighborhoods of Logan Circle and 14th Street have undergone a food and bar renaissance in the last year. The urban chic neighborhood is a haven for DC's thriving GLBT community. Favorites include the craft beer paradise Churchkey and the grilled cheese making, pint pouring Logan Tavern.

H Street/Atlas District
Few neighborhoods boast a more eclectic, hipster, downright cool vibe than H Street Northeast. From edgy, indie live music venue Rock and Roll Hotel to the long-running holder of the best dive bar in DC title, The Pug, H Street has a little bit of it all. Little Miss Whiskey's Golden Dollar is one of the city's hottest dancing spots, featuring theme-nights.

U Street
If live music is your thing, then U Street is your scene. The 930 Club is arguably the best music venues in the city with shows from lesser-known artists to big name bands. U Street also boasts DC's iconic late night chow: Ben's Chili Bowl.

Georgetown
The preppy enjoy Georgetown's nightlife. Pricey bars and restaurants line Georgetown's waterfront, making for a relaxing, romantic summer night. Chadwicks offers an unpretentious menu with decent prices near the water. The Tombs is a pub with strong drinks and a loyal following.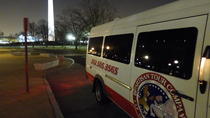 278 Reviews
This nightly small group bus tour is 30 minutes longer than most other companies ensuring all guests an epic evening in Washington DC. It offers the ... Read more
Location: Washington, District of Columbia
Duration: 4 hours (approx.)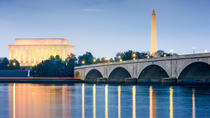 1526 Reviews
You haven't seen Washington DC until you've seen it at night! On this narrated evening tour, you'll enjoy the sights and sounds of Washington DC, and see ... Read more
Location: Washington D.C., District of Columbia
Duration: 3 hours (approx.)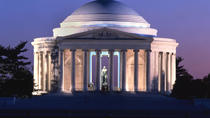 644 Reviews
Take a guided evening tour of Washington DC's monuments and memorials -- majestic by day and spectacular when floodlit at night! See the Lincoln Memorial and ... Read more
Location: Washington D.C., District of Columbia
Duration: 3 hours (approx.)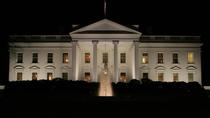 121 Reviews
See Washington D.C.'s most memorable sites with knowledgeable and passionate local guides, by night! This 4-hour tour uncovers the beauty of Washington D.C. ... Read more
Location: Washington, District of Columbia
Duration: 4 hours (approx.)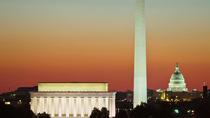 92 Reviews
Join this open-air, London style double-decker bus tour that allows you to see America's Capital City when she's at her most beautiful: by twilight! On this ... Read more
Location: Washington, District of Columbia
Duration: 3 hours 30 minutes (approx.)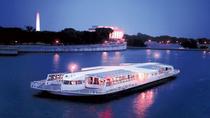 87 Reviews
Come aboard Washington's premier dining ship! This 2.5-3 hour dinner cruise takes you along the Potomac River for panoramic views of the nation's greatest ... Read more
Location: Washington D.C., District of Columbia
Duration: Varies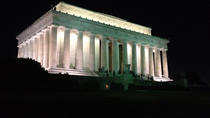 65 Reviews
Explore the famous monuments and war memorials of Washington, DC by the light of night on this private, 4-hour, sightseeing tour. Hop aboard a comfortable van ... Read more
Location: Washington, District of Columbia
Duration: 4 hours (approx.)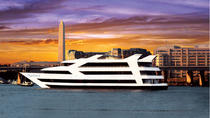 41 Reviews
Experience the Potomac River on a sunset dinner, dancing and sightseeing cruise, where you'll see Washington DC's famous skyline from a luxury boat. As your ... Read more
Location: Washington D.C., District of Columbia
Duration: 3 hours (approx.)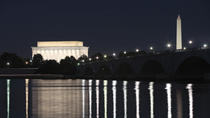 110 Reviews
Experience a whole different side of Washington, DC during our Monuments By Night tour! Climb into our all-electric Red Roadsters and tour the National Mall in ... Read more
Location: Washington D.C., District of Columbia
Duration: 2 hours (approx.)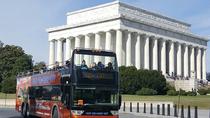 74 Reviews
From the comfort of climate-controlled tour buses, explore the sights of Washington DC with a hop-on hop-off pass that provides easy transportation to the ... Read more
Location: Washington, District of Columbia
Duration: Flexible