Washington, DC is smaller in area than any state; it is possible for a person to traverse the entire city in a day without stepping foot in a vehicle or the underground metro rail. Because of its compact size and myriad outdoor attractions, biking in DC is one of the best ways to take in all the city has to offer. 
Washington, DC day bike rentals can be found near the National Mall and by the Georgetown Waterfront, two of DC's most biking-friendly areas. Pedaling through the National Mall is a great way to see all of the major sites - including the Washington Monument, Lincoln Memorial, and Jefferson Memorial, in a short amount of time. Consider taking the Washington DC monuments bike tour to get up close and personal with the monuments, while also learning some of the history and fun facts along the way. 
The monuments stand austere and proud during the day, but lit up at night they take on a regal, majestic quality. The Washington DC sites at night bike tour follows the safe, well lit trails on the National Mall and provides plenty of opportunities to stop to take photos. At night, there are fewer crowds, and the air is cooler, making for an even more pleasant bike ride. 
You haven't fully biked in DC until you've taken on the Mount Vernon Trail. Extending from DC to Mt. Vernon Estate, George Washington's famous 18th-century home, the trail offers views of the Potomac River, tree-lined paths, and plenty of areas to stop for a picnic. The Mt Vernon independent bike tour with an option Potomac River Cruise caters to those who would rather go-it-alone and immerse themselves in some of the prettiest terrain around DC. 
Another important area to take in on two wheels is the Georgetown Waterfront and C&O Canal. From Georgetown, the C&O Canal trail followers the river for hundreds of miles. With stone banks, dense woods, and a nearly flat surface, it's a prime destination for a long, relaxing bike ride.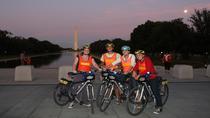 119 Reviews
See the famous sights of Washington by night including the Vietnam War Memorial, Jefferson, Lincoln and WWII memorials. There is no better way to spend an ... Read more
Location: Washington D.C., District of Columbia
Duration: 3 hours (approx.)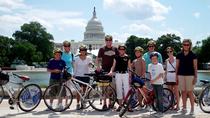 79 Reviews
The Washington DC Capital Sites Bike Tour is a safe and enjoyable cycling trip of the most popular sights of Washington. Sites you will see include the ... Read more
Location: Washington D.C., District of Columbia
Duration: 3 hours (approx.)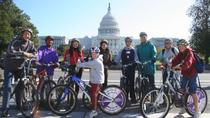 69 Reviews
See DC's historical monuments and landmarks up close and personal on a 3-hour bike tour with an informative guide. Cruise around the National Mall to see some ... Read more
Location: Washington D.C., District of Columbia
Duration: 3 hours (approx.)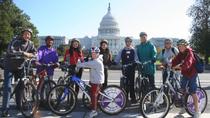 9 Reviews
See the best of America's capital with this full-day Washington DC bike rental. Pick up your easy-riding bike and pedal through the city, stopping at iconic ... Read more
Location: Washington D.C., District of Columbia
Duration: Flexible
3 Reviews
Explore the famous landmarks and monuments in Washington, DC on this guided, 3-hour bicycle tour. Pedal around the nation's capital, visiting the White House, ... Read more
Location: Washington, District of Columbia
Duration: 3 hours (approx.)
Explore the famous landmarks and monuments of Washington, DC on this guided, 3-hour bicycle tour. As the sun sets over the National Mall, pedal through the ... Read more
Location: Washington, District of Columbia
Duration: 3 hours (approx.)
Explore the famous landmarks and monuments of Washington, DC on this guided, 5-hour bike and walking tour. Pedal around and to the major monuments and ... Read more
Location: Washington, District of Columbia
Duration: 5 hours (approx.)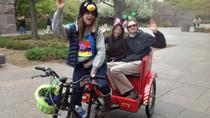 This unique tour by pedicab lets you taste Washington DC's finest wines, Champagne or liquors while seeing some of the city's most famous historic ... Read more
Location: Washington D.C., District of Columbia
Duration: 60 minutes (approx.)