Quiver Tree Forest Tours
A magical forest containing one of the continent's most iconic trees lies just north of Keetmanshoop in the southern region of Karas. Some 250 Aloe dichotoma—better known as quiver trees—populate this destination that draws travelers seeking a bit of wonder from all across the globe. The thick-trunked plants with bushy looking tops got their name form the bushmen who used their branches to make quivers for their hunting bows. Travelers can spend the day exploring the forest, then head to Giants Playground, a few kilometers northeast of the trees, where giant rock formations are a popular draw for visitors to this arid region.
Practical Info
The Quiver Tree Forest is located 14 kilometers north of Keetmanshoop on the road to Koes in the Gariganus farm.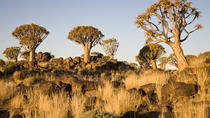 Journey through the epic landscapes of Namibia. This wide-ranging guided adventure takes in all Namibia's highlights from the red deserts of the south to the ... Read more
Location: Windhoek, Namibia
Duration: 14 days (approx.)