Xian City Wall (Chengqiang)
Xi'an has one of the most extensive and best-preserved defensive walls in the world. This colossal structure was started under the Ming Dynasty in 1370, a few years before the Drum and Bell Towers, and replaced an earlier wall which encompassed a much larger area.
You can get an idea of the Xian City Wall's - or Chengqiang - extraordinary thickness on the wide terrace which surmounts it. There are 98 ramparts, each with its own sentry house, as well as 18 gateways, of which the most impressive is the South Gate. The huge rectangle is further encompassed by a moat, showing the builders were leaving nothing to chance. This is now complemented with charming landscaped gardens.
Practical Info
The City Wall encircles central Xi'an. You can cover the entire 8.5 miles (14 kilometers) on foot, or hire bicycles at the South Gate to speed up the circuit. There are stunning views of the city from both sides.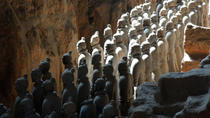 18 Reviews
While you're in Shanghai, take a day trip to Xi'an, famous as one of the birthplaces of ancient Chinese civilization. You'll learn about the history of the ... Read more
Location: Shanghai, China
Duration: 14 hours (approx.)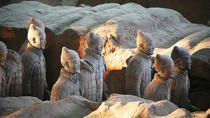 7 Reviews
If you travel in other big cities in China yet want to experience the amazing history of Xi'an, this private day tour to Xi'an Terracotta Warriors and City ... Read more
Location: Xi'an, China
Duration: 9 hours (approx.)
Essential Xi'an Private Day Tour will take you to see the highlights of Xi'an's most important attractions including Terracotta Warriors and Horses Museum, Big ... Read more
Location: Xi'an, China
Duration: Flexible
1 Review
Experience the historical highlights of Xi'an in this fascinating full-day trip. Disregard time constraints with this convenient sightseeing experience, that ... Read more
Location: Xi'an, China
Duration: 10 hours (approx.)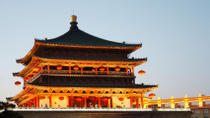 13 Reviews
Spend a full day exploring the unique history, culture, beautiful architecture and religious monuments of the ancient walled city of Xi'an. One of the capitals ... Read more
Location: Xian, China
Duration: 9 hours (approx.)
1 Review
During this one day tour in the ancient city, you get to see the world wonder and the largest underground army, the Terracotta Warriors and Horses. Stand in ... Read more
Location: Xi'an, China
Duration: 8 hours (approx.)
The glorious long history of the ancient Chinese capital, Xi'an, has apparently contributed to its magnificent culture. This is the most classic Xi'an one day ... Read more
Location: Xi'an, China
Duration: 8 hours (approx.)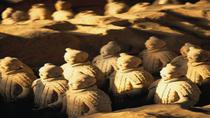 5 Reviews
Visit the two most popular historical sites of Xi'an on this full-day tour of the ancient city wall and the Terracotta Warriors. Explore Xi'an's old city wall, ... Read more
Location: Xian, China
Duration: 8 hours (approx.)
Visit the Terracotta Warriors Museum and the Xi'an city wall on this 8-hour tour. Enjoy a delicious lunch after visiting the museum, on your way to the ... Read more
Location: Xi'an, China
Duration: 8 hours (approx.)
Enjoy private tour guide and driver service on this tour to visit Terracotta Warriors and Horses Museum, one of the eight wonders of the world, and learn ... Read more
Location: Xi'an, China
Duration: 8 hours (approx.)