Visiting the Terracotta Warriors
By Viator, August 2016
In 1974, local farmers digging a well near Xi'an, China made one of the most important archeological discoveries in history. What started as one life-sized statue of a clay warrior soon became an entire army of thousands, making Xi'an one of the most visited cities in China.

The terracotta warriors are thought to be part of an immense mausoleum that offers visitors a look into life and war in ancient China. More than 6,000 of these statues have been uncovered, but archeologists left them as is, covering the immense pits with buildings to keep them protected. When you visit the terracotta warriors, you'll get to see all three excavation pits, as well as a museum housing two bronze chariots as well as some of the weapons uncovered during the excavation.

When visiting the terracotta warriors, you have several options to choose from. Most visitors spend an entire day exploring the Terracotta Warriors and Horses Museum. On this full-day guided tour from Xi'an, you'll not only see the warriors, but also stop at the 6,000-year-old Banpo ruins located outside the city. If you're staying in Xi'an, you can easily combine your terracotta warrior tour with other local experiences, like a guided bike ride along the ancient Xi'an city walls or an afternoon of relaxation in a local hot springs spa.

If you'd rather explore the archeological site at your own pace, take a private tour that includes pickup and drop-off at either your hotel or the airport. If you're really pressed for time, it's even possible to see the terracotta warriors on a day trip from Shanghai. After catching a morning flight from Shanghai to Xi'an, you'll have the whole day to walk the city walls and tour the terracotta warriors archeological site before flying back to Shanghai.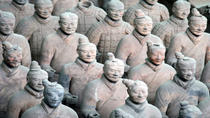 134 Reviews
Xi'an is home to the world-famous Terracotta Warriors Army and Horses, one of the most significant archeological excavations of the 20th century. This ... Read more
Location: Xian, China
Duration: 9 hours (approx.)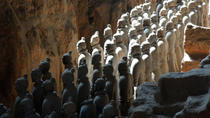 19 Reviews
While you're in Shanghai, take a day trip to Xi'an, famous as one of the birthplaces of ancient Chinese civilization. You'll learn about the history of the ... Read more
Location: Shanghai, China
Duration: 14 hours (approx.)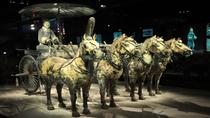 4 Reviews
This small-group tour will be a feast for your senses as your guide introduces you Xi'an's most popular cultural experiences. Learn about one of China's ... Read more
Location: Xian, China
Duration: 8 hours (approx.)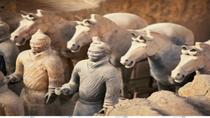 3 Reviews
Make the most of your time in Xi'an with this private tour of the UNESCO World Heritage-listed Terracotta Warriors including round-trip hotel/airport ... Read more
Location: Xian, China
Duration: 6-7 hours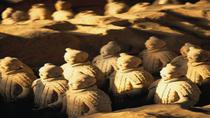 5 Reviews
Visit the two most popular historical sites of Xi'an on this full-day tour of the ancient city wall and the Terracotta Warriors. Explore Xi'an's old city wall, ... Read more
Location: Xian, China
Duration: 8 hours (approx.)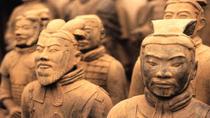 9 Reviews
Find yourself touring an ancient Chinese site one moment and relaxing with a fish pedicure the next on this full-day guided tour to the Terracotta Warriors and ... Read more
Location: Xian, China
Duration: 8 hours (approx.)
Essential Xi'an Private Day Tour will take you to see the highlights of Xi'an's most important attractions including Terracotta Warriors and Horses Museum, Big ... Read more
Location: Xi'an, China
Duration: Flexible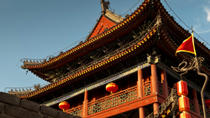 See the top cultural attractions of Xi'an, an ancient capital city along the Silk Road, on this private day trip from Guangzhou. With flight included, enjoy ... Read more
Location: Guangzhou, China
Duration: 11 hours (approx.)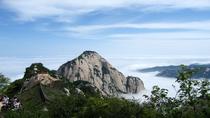 1 Review
This 2-day private tour in Xi'an will take you to the UNESCO World Heritage-listed Terracotta Warriors and Emperor Qin's mausoleum. Enjoy an authentic Chinese ... Read more
Location: Xian, China
Duration: 2 days, 1 night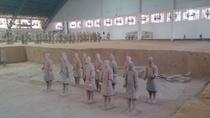 Have you tried comparing the look of warrior from Qin Dynasty and Han Dynasty? This tour will take you to visit the underground army and the life-size soldiers ... Read more
Location: Xi'an, China
Duration: 8 hours (approx.)