Myanmar cuisine is as diverse as its people. Its close proximity to the coast, as well as to the countries of China, India and Thailand, is evident in almost all of the nation's regional dishes. Landlocked cities like Mandalay rely heavily on meat and chicken, while coastal cities like Mawlamyaing harvest their proteins from the sea. But because Buddhists traditionally do not eat beef and Muslims avoid pork, the nation's cuisine is heavy on fruits and vegetables, too.

Most of the country starts its day with Mohinga—a breakfast staple that is considered by many to be the national dish. Locals cook this rich fish soup that includes chickpeas, rice, garlic, onion, lemongrass and catfish in giant iron pots and serve it piping hot over noodles. The dish originated in Myanmar's southern towns, where fresh fish is readily available, but visitors to northern territories can easily find this complex soup at food stands and local restaurants, where cooks will likely rely on fish paste for flavor.

Like many other Asian cuisines, traditional Burmese lunch and dinner typically starts with steamed rice. Smaller dishes, called hin, are served alongside the starch. These often include dried fish, curried meats and fresh or boiled vegetables with lime, chilies and pickled mangoes. Noodle salads are also popular, like Khauk swe thoke, which includes dried shrimp, carrots, fish sauce and shredded cabbage.

Traditionally, family elders are served first at mealtime as a sign of respect. And while Burmese eat with their right hand, chopsticks and spoons are also part of the daily place setting. Drinks are rarely served with meals, but when they are, it's generally green tea.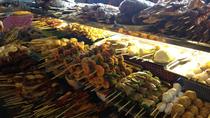 10 Reviews
Experience downtown Yangon as the locals do on a 2.5-hour walking tour of the night markets. Shop, browse, eat and revel in the ambiance of this vibrant city ... Read more
Location: Yangon, Republic of the Union of Myanmar
Duration: 2 hours 30 minutes (approx.)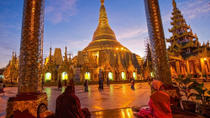 1 Review
Your private 3-day tour of Yangon introduces you to the magnificent Shwedagon Pagoda, whose golden dome was once decorated with precious stones. Discover the ... Read more
Location: Yangon, Republic of the Union of Myanmar
Duration: 3 days (approx.)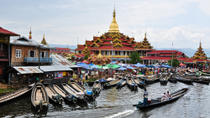 Gain insight into four fascinating cities of Myanmar (Burma) during this one-of-a-kind 9-night private tour! Travel off the beaten path, enjoying round-trip ... Read more
Location: Yangon, Republic of the Union of Myanmar
Duration: 10 days (approx.)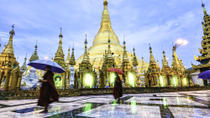 5 Reviews
Find out what lies behind the golden façade of Shwedagon Pagoda on a half-day walking tour to the gilded stupa. Your knowledgeable guide will take you on ... Read more
Location: Yangon, Republic of the Union of Myanmar
Duration: 4 hours 30 minutes (approx.)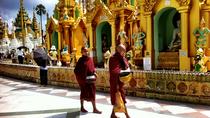 Yangon equals a sense of years in solitude, and leftovers from the British colonial era. Yet the city is so clearly of Asian heritage and very much its own. ... Read more
Location: Yangon, Republic of the Union of Myanmar
Duration: 3 days (approx.)