With its iconic limestone karst-dotted landscape and winding rivers, Yangshuo is one of the best destinations in China for outdoor adventure. A mild climate throughout the year means there's no bad time to enjoy the rural scenery of Southern China from a bike, boat or climbing rope.

By far the most popular outdoor activities in Yangshuo involve the Li and Yulong Rivers. If you prefer to sit back and relax as you take in the scenery of Yangshuo's great outdoors, you can do just that on a rafting trip down either waterway. Motorized rafts on the Li River take passengers past some of the area's most recognizable karst formations, including the scene depicted on the 20 RMB note. If you'd prefer to experience a slide of rural, riverside life, float down the Yulong River on a pole-propelled bamboo raft instead.

For a more active river experience, take a Yangshuo Kayaking Adventure on the Li River, where a local guide will take you past towering karsts and bamboo forests along a less visited portion of this popular river.

While the river is a great "road" for exploring the surroundings of Yangshuo, there's a lot of countryside best explored in the saddle of a bicycle. If you're a beginner or pressed for time, a Small-Group Bike Tour offers a full day of riding through 18 to 24 miles (30 to 40 kilometers) of off the beaten path countryside. Travelers looking for a challenge can saddle up for a 5-Day or 7-Day Yangshuo Bike Adventure.

After you've seen the karsts of Yangshuo from the road or the river, you might want a closer look. Luckily, Yangshuo has become a premier spot for rock climbing, with routes suitable for beginners and experts alike. Try your hand at the sport with a Small-Group Yangshuo Rock-Climbing Adventure, where you'll challenge yourself on a route suited to your skill level and get to see Yangshuo from a very unique and breathtaking perspective.
Riding a bike on footpaths to explore the most dramatic Yangshuo scenery, which is the excellent way to get deep into the countryside. Your knowledge guide ... Read more
Location: Yangshuo, China
Duration: 3 hours (approx.)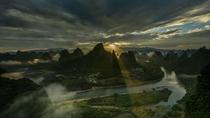 1 Review
Each year, a good number of photographers are attracted to Xianggong Mountain by the light and shadow, sea of clouds, and amazing morning glow at sunrise. The ... Read more
Location: Guilin, China
Duration: 5 hours (approx.)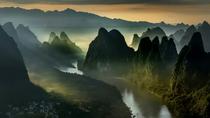 1 Review
Visit highlights of Yangshuo including Xianggong Mountain, West street, and a bamboo boat ride on Yulong River with this private Yangshuo day tour. You will be ... Read more
Location: Guilin, China
Duration: Flexible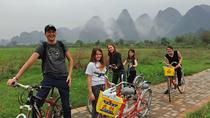 Bike past the rice paddies and towering mountains as you explore the countryside around Yangshuo just like Jimmy Carter, the former U.S. President, did when he ... Read more
Location: Guilin, China
Duration: Flexible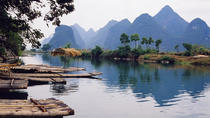 There are many fabulous Karst mountains and paddy fields in Yangshuo. During this private 6-hour hiking tour, you will hike along the country paths to explore ... Read more
Location: Yangshuo, China
Duration: 6 hours (approx.)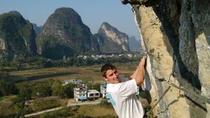 Rock climbing has existed for more than one hundred years in the world, it has become an independent and trendy sport. Hailed as of Rock Climbers' Paradise of ... Read more
Location: Yangshuo, China
Duration: 4 hours (approx.)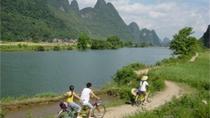 Yangshuo in Guangxi is an amazing destination with its karst-peak surroundings and rocks. Exploring by bike is one of the best ways to get close to the ... Read more
Location: Guilin, China
Duration: 4 hours (approx.)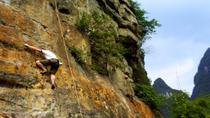 Ready for your next adventure? Whether you're an expert mountaineer or a beginner climber, you will have an experience of a lifetime on this rock-climbing ... Read more
Location: Yangshuo, China
Duration: 4 hours (approx.)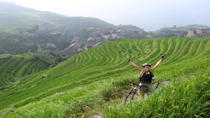 2 Reviews
Get ready for an adventure-filled week as you explore the rural countryside of Guangxi by bike! Your guided bike tour will take you off the beaten track from ... Read more
Location: Guilin, China
Duration: 7 days (approx.)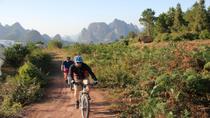 2 Reviews
Experience the unspoiled scenery of rural Yangshuo on a 5-day bike tour, perfect for those with a hunger for adventure! Enjoy several moderate bike rides with ... Read more
Location: Guilin, China
Duration: 5 days, 4 nights