Goddess Peak (Shennu Feng) Tours and Activities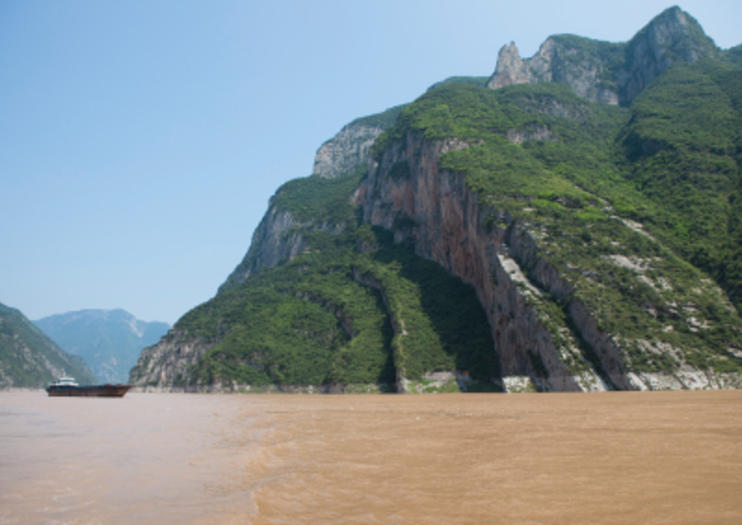 The atmospheric, mist-shrouded cliffs and mountains along the Three Gorges region of the Yangtze River hold a prominent spot in Chinese folklore dating back hundreds of years. While the scenery is reason enough to warrant a trip down the river, the rich cultural history of the region and many locations iconic in Chinese mythology sweeten the pot. One such site is called Goddess Peak (Shennu Feng) where the goddess Yao Ji is believed to be immortalized in stone, watching over the river below.

According to legend, Yao Ji, the twenty-third daughter of the Heavenly Mother, grew tired of life in heaven and decided to pay a visit to Earth with her maidservants. While traveling along the Yangtze River, she found twelve dragons flying in the sky above Wu Gorge, playing with the winds and rains and endangering the people living along the banks. In her anger, she killed each of the twelve dragons with thunder and earthquakes. As the dragons fell to the earth, their bodies became the twelve mountains blocking the river and flooding Sichuan Province.

Xia Yu, the ancient Chinese hero of controlling water, heard of the flooding and came to aid the people of Sichuan by way of the Yellow River. Xia Yu grew frustrated with the strong river current and the high mountains made it difficult for him to control the flooding. Thus, Yao Ji sent her servants to help Xia Yu dredge the Yangtze River all the way to the East China Sea.

Xia Yu climbed to the top of Wushan Mountain to thank the goddess for her help, but when he arrived, all he saw was a beautiful stone pillar. The pillar transformed into the appearance of Yao Ji, and the goddess instructed Xia Yu on the principles of nature and its ever-changing state. While the flooding had ended, Yao Ji remained perched at the top of Wushan Moutain to help guide boats, drive away dangerous animals, bring rains to the farms and cultivate medicines in the verdant mountains along the river.

Today, you can still see the stone column in the Wu Gorge in the shape of a girl looking down upon the Yangtze. Goddess peak is the highest of the twelve peaks comprising the Wu Gorge.
Read More
Show Less
0 Tours and Activities to Experience Goddess Peak (Shennu Feng)
No results found!
Did you know?
You can reserve your spot today and pay when you're ready.
You can reserve your spot today and pay when you're ready.
Learn more