Yangtze River RECOMMENDATIONS See all
Stops Along the Yangtze River
By Viator, November 2013
No reviews, be the first!
The Yangtze River, one of China's most important waterways and the longest river in Asia, stretches 3,988 miles (6,418 kilometers) from the Tibetan Plateau to Shanghai, where it drains into the East China Sea. Thanks to the dramatic scenery and traditional way of life along the river, it's become one of the country's top tourist attractions. If you're embarking on a Yangtze River cruise during your time in China, here are some stops you can expect to make.

Yichang

Most cruises along the Yangtze either start or end in the city of Yichang. This city of about four million people is small by Chinese standards, but offers a glimpse of what life is like in a typical, modern Chinese city.

Three Gorges Dam

The Three Gorges Dam, Yichang's primary attraction, was completed in 2009 as the largest piece of construction in the country since the erecting of the Great Wall. This controversial feat of engineering has altered the landscape of the Yangtze and affected millions of people, some for better and others for worse.

Three Gorges

If you're on a Yangtze River cruise, you've probably come to enjoy the scenery of the Three Gorges. This 75-mile (120-kilometer) stretch of the Yangtze has inspired novelists and poets for centuries and is by far the most scenic stretch of the river.

Three Little Gorges/Daning River

Your Yangtze cruise will probably include a boat excursion on the Daning River, the largest tributary of the Yangtze and home of the Three Little Gorges. The towering cliffs along this river house mysterious karst caves where the ancient Bo people hung coffins hundreds of feet in the air.

Shennong Stream

Another tributary of the Yangtze, the Shennong Stream, is home to the Tujia minority group. A stop here involves taking a drip along the river on a wooden sampan boat, driven by a local Tujia villager.

Fengdu Ghost Town

Perhaps the strangest stop along the Yangtze River is Fengdu Ghost Town, a Taoist and Buddhist necropolis filled with grotesque statues and ominous-sounding monuments, like the Nothing to be Done Bridge and the Ghost Torturing Pass.

Chongqing

At the other end of the cruisable portion of the Yangtze from Yichang is the massive city of Chongqing. With a population of nearly 30 million people, it's often jokingly referred to as "the largest city you've never heard of." Whether you get on or off here, be sure to sample the local specialty, a bubbling, spicy hot pot.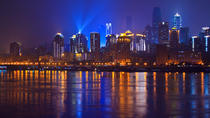 During this special evening in Chongqing, relax on a scenic Yangtze River cruise and then admire sweeping views of the illuminated city and mountains from One ... Read more
Location: Chongqing, China
Duration: 3 hours 30 minutes (approx.)