Yosemite National Park RECOMMENDATIONS See all
Yosemite Wildlife Viewing Tips
By Viator, July 2014
No reviews, be the first!
Hold it right there--keep very still. Chances are that while you were looking for wildlife in Yosemite, it was actually staring straight back at you. Yosemite is home to a wide range of wildlife: more than 400 species of vertebrates including fish, amphibians, reptiles, birds and mammals, to be exact.
Yosemite consists of many habitats and, as a result, a diversity of animals that live there. For example, in Yosemite Valley, visitors should watch for species that depend upon a meadow habitat, like mule deer, and the predators that are attracted to them, like black bears.
The expansive coniferous forests provide homes for animals like bobcat, spotted owl, gray fox and a variety of bat species, due to the large snags that serve as favored roosting sites. At higher elevations and above tree line, the climates are harsh and there's a shorter growing season. This doesn't mean that there is a dearth of wildlife at higher elevations; on the contrary, you'll be able to spot species that have adapted to these difficult conditions.
While chances of spotting wildlife are plentiful, a few key tips can help you get the most out of your Yosemite wildlife viewing experience.
Avoid groups of people. Most animals are like introverted people and are easily frightened by large crowds.
Attempt to blend in. The color of your clothing (darker colors blend in better) and your overall movement can help conceal you in your surroundings, making wildlife less afraid of your proximity.
Go slow. If you see a large animal like a deer or elk, stay calm and don't make any sudden movements that might alarm them. If you want a better look at a smaller animal that has gone to ground, pick a comfortable spot and wait. If you're patient, they'll probably peek their head out to see what you're up to.
The best way to find a good wildlife watching spot is to look for evidence of where the animals hang out. Dens, trails in the grass, holes where something has been buried or even scat can give clues as to an animal's home. Be respectful and you never know who might show up for dinner.
1260 Reviews
Take time out for a day trip into the wild beauty of Yosemite National Park from San Francisco. You'll spend 5 – 6 hours inside the park with a combination of ... Read more
Location: San Francisco, California
Duration: 14 hours (approx.)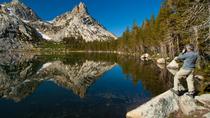 1 Review
Step into the shoes of Ansel Adams, Charles Weed, Carlton Watkins and Edward Weston during a basic or advanced photography lesson in magnificent Yosemite ... Read more
Location: Yosemite, California
Duration: Varies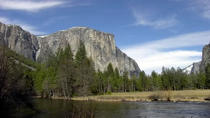 12 Reviews
Calling all adventurers and independent travelers! Maximize your visit to Yosemite with an overnight stay on this comprehensive 2-day tour from San Francisco. ... Read more
Location: San Francisco, California
Duration: 2 days (approx.)