Jungfrau Glacier
Known as the Jungfraujoch, the glacier is a saddled between the mountains Monch and Jungfrau in the Swiss Alps. It is known as the Top of Europe and is a UNESCO World Heritage Site. From here you can look down upon the icy wilderness of swirling glaciers, and across at 13,000 ft (4,000 m) high mountain turrets. On top of the Jungfrau is a global atmospheric monitoring station.

Visiting the Jungfraujoch's eternal ice and snow is a once-in-a-lifetime experience as the annual two million visitors can attest. Riding the narrow cog railway to 11,300 ft (3,454 m) is a must. On the journey you pass by the foot of the notorious Eiger North Wall, through tunnels, past polar dog kennels, finally arriving at the heart of the glaciers. The longest glacier in Europe, the Great Aletsch Glacier - 14 miles (23km) - begins at Jungfraujoch, and you can see as far as France and Germany.
Practical Info
The only way up to the Jungfraujoch is by the narrow cog railway, the Jungfraubahnen. It leaves from Interlaken OST and takes two and a half hours each way. The final tunnel on the railway passes through the Eiger and took 3,000 men 16 years to build, opening in 1912. Good weather is essential for a visit so check first. It is possible to stay the night up the mountain, at Monchsjochhutte.
222 Reviews
Sure to be a highlight of your Switzerland vacation, this day trip from Zurich takes you into the Swiss Alps. Discover Jungfraujoch, one of the highest points ... Read more
Location: Zurich, Switzerland
Duration: 12 hours (approx.)
929 Reviews
Embark on a spectacular Alpine journey from Zurich to the Top of Europe! Travel by coach through the Bernese Oberland in Switzerland's magnificent Jungfrau ... Read more
Location: Zurich, Switzerland
Duration: 11.5 hours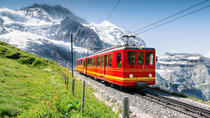 515 Reviews
Travel to the top of Europe and admire the soaring peaks of the Swiss Alps on this 9.5-hour Jungfraujoch day trip from Lucerne. Take a scenic drive through ... Read more
Location: Lucerne, Switzerland
Duration: 9 hours 30 minutes (approx.)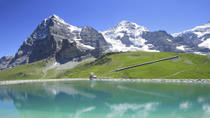 17 Reviews
On this day trip from Zurich, venture through the scenic Bernese Oberland Alps to Kleine Scheidegg, halfway up the stunning UNESCO World Heritage-listed ... Read more
Location: Zurich, Switzerland
Duration: 12 hours (approx.)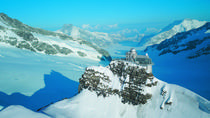 34 Reviews
Immerse yourself in a breathtaking Alpine wonderland on this guided day trip from Interlaken to the Top of Europe. Travel by coach through the Jungfrau region ... Read more
Location: Interlaken, Switzerland
Duration: 7 hours (approx.)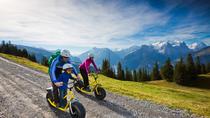 4 Reviews
Explore the forest trails of the Bernese Alps in style on this 2.5-hour monster scooter mountain tour from Interlaken. Travel out of Interlaken to the mountain ... Read more
Location: Interlaken, Switzerland
Duration: 2 hours 30 minutes (approx.)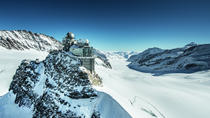 9 Reviews
Discover soaring Alpine peaks, blooming meadows and shimmering lakes in Switzerland's Bernese Oberland with this 3-, 4-, 5- or 6-day Jungfrau region travel ... Read more
Location: Interlaken, Switzerland
Duration: 3 days (approx.)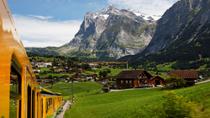 34 Reviews
Spend a full day in the beautiful alpine world of the famous Bernese Oberland on this guided coach tour from Zurich. Sit back and relax on your guided tour in ... Read more
Location: Zurich, Switzerland
Duration: 11 hours 30 minutes (approx.)
Directly between Gstaad and Les Diablerets lies Glacier 3000, one of the most well-known and accessible glaciers in Switzerland. It's only a 15-minute cable ... Read more
Location: Les Diablerets, Switzerland
Duration: 3 hours (approx.)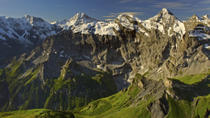 4 Reviews
Travel from Zurich for a mostly independent day trip to the Swiss towns of Grindelwald and Interlaken, with transport included. Enjoy a coach ride through the ... Read more
Location: Zurich, Switzerland
Duration: 12 hours (approx.)