Away from its big cities, Switzerland remains a country of jaw-dropping mountain vistas and cherished rural traditions. You won't have to venture far from urban boundaries to plunge into another world. Leave the city pleasures of Zurich behind and discover the country's bucolic bliss on the Switzerland Countryside and Traditions Tour. Take a look through historic churches, castles and museums, taste some world-famous chocolate and cheese, or just lose yourself in ancient streets and glittering boutiques.

Switzerland remains a tempting destination for cheese-lovers and chocaholics. Here they can indulge their passions to their hearts' content. The Switzerland Mountain Cheese and Chocolate tour from Zurich lets you sample local cheese and chocolate. You can work up another appetite by walking the streets of villages and catch an aerial cable car over Swiss Alpine peaks for a wrap-around view of eastern Switzerland's Heidi country.
Switzerland's alpine delights are never far from its urban hubs. Towering Mount Rigi, situated in the heart of the Swiss Alps, is easily accessible on a day tour from Zurich. Leave town in the morning and by lunchtime you'll be seated on the sun terrace taking in the mountain air, gazing out across snow-capped Alps and the picturesque Lake Lucerne below.

Board Europe's first ever cog-wheel train from Weggis to the summit of what locals call the Queen of the Mountains. At 6000 feet (1800 meters), you'll feel as though you're on top of the world. Don't miss the short walk to the mountain's peak for that breathtaking, top-of-the-world feeling. In winter, rent a sledge or enjoy a shoe shuffle through a winter wonderland or, year round, board a boat for a crossing of Lake Lucerne.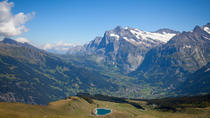 6 Reviews
Enjoy a day full of fresh mountain air and unforgettable Alpine scenery on this mostly independent day trip from Lucerne. Travel through the Bernese Oberland ... Read more
Location: Lucerne, Switzerland
Duration: 10 hours (approx.)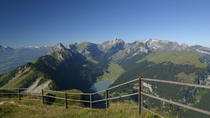 89 Reviews
Venture to the Heidi-like region of eastern Switzerland on this full day guided coach tour from Zurich. Sample local cheese and chocolate, walk the streets of ... Read more
Location: Zurich, Switzerland
Duration: 9 hours (approx.)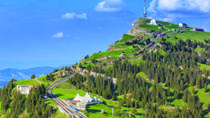 22 Reviews
This independent Mount Rigi tour from Lucerne combines a round-trip boat cruise, cogwheel railway ride and aerial cable car ride for an epic Swiss Alps ... Read more
Location: Lucerne, Switzerland
Duration: 5.5 or 8.5 hours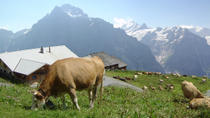 53 Reviews
Delight in some real Swiss traditions on this full-day small-group tour from Zurich. Even those pressed for time will find this tour an ideal way to ... Read more
Location: Zurich, Switzerland
Duration: 9 hours (approx.)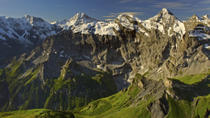 4 Reviews
Travel from Zurich for a mostly independent day trip to the Swiss towns of Grindelwald and Interlaken, with transport included. Enjoy a coach ride through the ... Read more
Location: Zurich, Switzerland
Duration: 12 hours (approx.)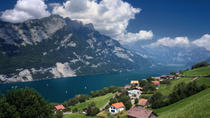 743 Reviews
Immerse yourself in a world of mountains and valleys, alpine lakes and meadows, waterfalls, gorges, caves and fascinating scenic reserves on a guided coach ... Read more
Location: Zurich, Switzerland
Duration: 7 hours 30 minutes (approx.)