Rio de Janeiro Travelers Recommend
---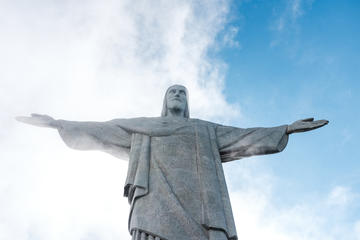 12 Tours and Activities
Your first day in Rio is perhaps best spent getting oriented to the city. Get a bird's eye helicopter view of the marvelous city guarded by giant granite rocks and vast blue oceans. Alternatively roam downtown on foot or bicycle and mingle with the charming locals while learning of the city's fascinating lore and history. Follow this up with a delectable seafood lunch cruise that sails past the beaches of Niteroi. On day two, it's time to hit the sun, sea and surf! Indulge yourself with a tropical islands cruise complete with an island lunch or set sail to the Angra dos Reis archipalego. Cruise around Guanabara Bay and glimpse the spectacular Sugar Loaf Mountain. If you prefer basking in the lazy beach culture of some of the world's best beaches, Ipanema and Copacabana are as good as any. A holiday in Rio is incomplete without a tour of the famed trifecta of Corcovado, Christ the Redeemer and Sugar Loaf which includes a ride through the Tijuca Rain forest.
Learn More
---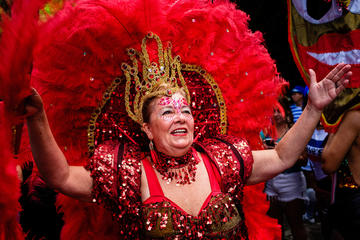 12 Tours and Activities
With five days of dazzling parades held at Rio's iconic Sambadrome, street parties erupting all around the city and more than 500,000 visitors flying in from all around the globe, Rio de Janeiro is famous for hosting the world's biggest, boldest and brightest carnival celebrations and there's no experience quite like it. The highlight of carnival season is attending one of the spectacular night parades at the Sambadrome, which sees the city's 14 top Samba Schools compete with ever-more impressive parades, featuring flamboyant samba dancers, glittering costumes and gigantic floats. Be sure to pre-book your carnival parade tickets, as they are sure to sell out, or opt for a five-night Rio de Janeiro Carnival package and discover the best of the city during the annual carnival. Even if you're not in the city for the party season, you can get a taste of Rio's legendary carnival celebrations all year-round, with a behind-the-scenes visit to the Cidade do Samba
Learn More
---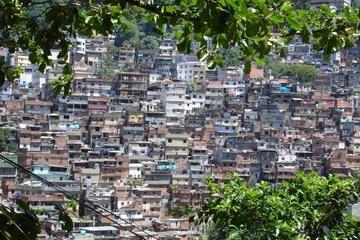 9 Tours and Activities
Rio's 900+ favelas are home to hundreds of thousands of people, packed tightly in astonishing density and replete with all the violence, criminality and squalor that one might expect when extreme poverty is combined with extreme overcrowding. While conditions in some areas border on middle class, many of the more infamous favelas are so fraught with rampant drug trafficking and brutal gang warfare that law enforcement personnel refuse even to set foot within their borders. In recent years, there has been an increase in "reality tourism" in the area, as locals attempt to raise awareness about both the appalling conditions as well as the vibrant subcultures of samba, funk and soccer that take route and flourish in the more stable favelas. Guided tours offer safe, intimate access to a side of life in Brazil that many tourists only glimpse from a distance.
Learn More
---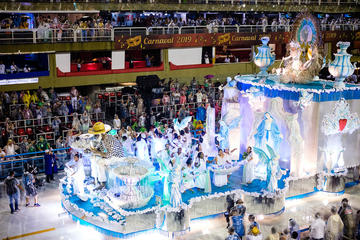 7 Tours and Activities
With troops of bejeweled dancers gyrating on stage, glittering floats parading through the Sambadrome exhibition hall and costumes so dazzling you'll need your sunglasses on even at night, Rio de Janeiro's annual carnival is without question, the biggest and boldest in the world. Up to 2 million revelers from around the world descend on the city in the week preceding Lent, as the city's legendary Samba Schools pull out all the stops for the vibrant showcase of Rio's Portuguese, African and Brazilian heritage. Carnival time sees the city explode with color, as riotous parties take over the beachfront and blocos (street bands) take to the streets to perform. The atmosphere is electric but the enormous crowds can be overwhelming to first-timers so pre-booking carnival tickets and guided city tours is a good idea. A 6-Night Carnival Package in Rio de Janeiro includes visits to all the city's major attractions, as well as the chance to view carnival preparations.
Learn More
---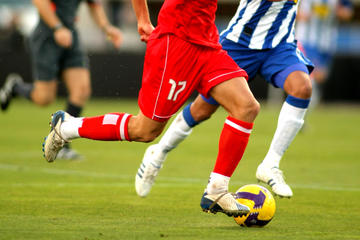 4 Tours and Activities
From Ronaldo's record setting World Cup goals to Pele's hat-trick of World Cup victories, few countries have churned out so many legendary international soccer players as Brazil, so it's no surprise that football is serious business in Rio de Janeiro. With Brazil set to host the 2014 FIFA World Cup, it seems everyone in Rio has caught football fever and from the beach to the favelas, everywhere you turn, you'll see local kids kicking a ball around a makeshift goal. If you're not lucky enough to get tickets for the 2014 World Cup games, there are still plenty of opportunities to watch world-class soccer in Rio with regular games by the city's four local teams - Flamengo, Botafogo, Fluminense and Vasco. Rio's football season runs from January through till May, with local teams competing for the Gunabara's Cup and Rio's Cup, after which the Brazilian Championship games take place from May until December, featuring 20 teams from around the country.
Learn More
---