Jama Masjid (Masjid e Jahan Numa) Tours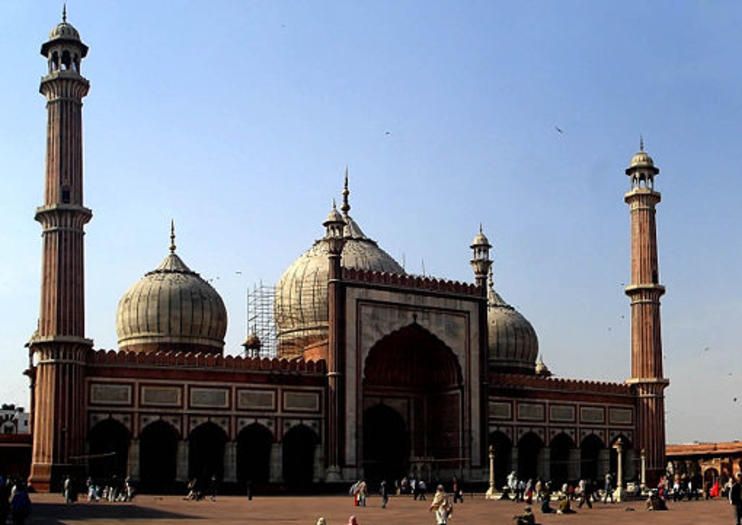 Old Delhi's Jama Masjid (Masjid e Jahan Numa) is the largest mosque in India and an unmissable stop on any Delhi itinerary. Built between 1644 and 1658 by Mughal Emperor Shah Jahan, the mosque's red sandstone and white marble domes, minarets, gateways, and arches are both grand in scale and elegance. Devout Muslims still come here to pray five times a day, while travelers stop by to marvel over the details. 
The Basics
The large Jama Masjid complex consists of a courtyard, a prayer hall, arched entrance ways, two minarets, and three domes. Around the outside of the mosque, hawkers sell all kinds of clothes, snacks, and textiles, but inside, the atmosphere is calm. It's possible to climb the southern minaret (outside of prayer time) for a small fee. From there, the views over the tangled streets of Old Delhi are among the best you'll find.
Many travelers opt to visit the Jama Masjid on a half- or full-day tour of Old and New Delhi, either on foot or by customizable van tour. In addition to a stop at the Jama Masjid, most tours also visit other Old and New Delhi highlights such as the Red Fort, Chandni Chowk, and the Qutub Minar.
Things to Know Before You Go
The Jama Masjid is a must-visit site for travelers interested in history, architecture, and culture in India.

There is no entry fee; don't believe touts who tell you to pay. But many visitors find that a guided tour helps add context to the site's interior.

Before entering, remove your shoes and leave them with a shoe minder.

Both men and women should dress modestly to enter—long pants and sleeves, plus a head covering for women. 

The views from the minaret are amazing but the steps are steep, so young kids or those with mobility issues may want to pass on the climb.

Women must be accompanied by a man to climb the minaret, and sometimes lone males aren't allowed to enter either.

How to Get There
The Jama Masjid is in Old Delhi. The Delhi Metro is the easiest way to get around the city, and the nearest metro station is Chawri Bazaar. The streets of Old Delhi are very congested, so getting a taxi is not very practical, but you can take a cycle or auto rickshaw from other parts of Old Delhi.
When to Get There 
Non-Muslims are only allowed to enter the Jama Masjid outside of prayer times. As Muslims pray five times a day, this means the mosque is closed quite frequently. Non-Muslims should also avoid visiting on Fridays (the Islamic holy day) and during Islamic festivals, when it is also very crowded. 
Touring Mughal Old Delhi
Much of Old Delhi was planned and built by the Mughals, who ruled Delhi (and much of India) from the 16th to 19th century. Delhi's Mughal monuments are among its finest and most distinctive—the Red Fort is across the road from the Jama Masjid and the Chandni Chowk market is also nearby. All of these Mughal Delhi highlights can easily be visited in one day.
Address:
Matya Mahal, Old Delhi, National Capital Territory of Delhi 110 006, India
Read More
Show Less
729 Tours and Activities to Experience Jama Masjid (Masjid e Jahan Numa)
Did you know?
You can reserve your spot today and pay when you're ready.
You can reserve your spot today and pay when you're ready.
Learn more