To limit the spread of the coronavirus, attractions may be closed or have partial closures. Please consult government travel advisories before booking. The WHO is closely monitoring the coronavirus and more information can be found
here
.
St Augustine Travelers Recommend
---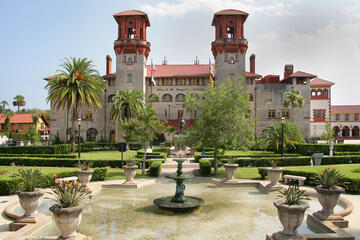 31 Tours and Activities
If you're in Saint Augustine you're obviously ready to step into the past. Take the trolley tour and find out about the history, sights and attractions from a well-informed trolley conductor. Check out Saint Augustine's oldest house; the old jail – definitely haunted; the Fountain of Youth; Lighter Museum; and the magnificent 17th century fortification, Castillo de San Marcos. Wander through the old colonial Spanish neighbourhoods, and sit in an old-time café and imagine it's two, three, even four hundred years ago. To get a wider perspective, take a helicopter tour. Check out Saint Augustine, Porpoise Point and Old Downtown from a bird's point of view. Or fly high over Saint Augustine Beach, perhaps even include neighbouring Viliano Beach, Conch Island, Bird Island, San Jose Forest and Fort Matanzas and Saint Augustine Lighthouse on a long ride through the skies.
Learn More
---
Things to do near St Augustine