Brittany (Bretagne) Tours and Activities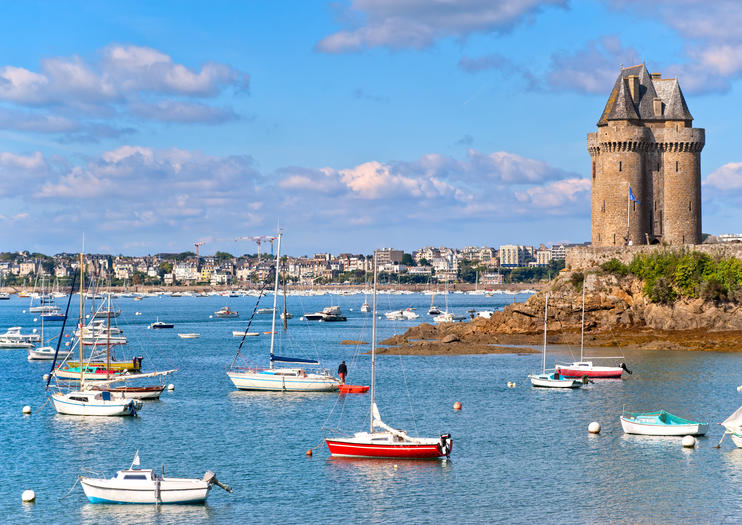 Brittany (Bretagne) is the western-most region in France, a peninsula on the coast that stretches out into the Atlantic and well past the Greenwich Mean Time line of its neighbor across the English Channel. Although Brittany is rich in history and its natural beauty is nothing short of breathtaking, it remains a hidden gem away from many foreign tourists because of its distance from Paris, everyone's favorite base for France vacations.
In French, Brittany is known as Bretagne and its inhabitants are called Bretons. The region's history goes back hundreds of thousands of years, as evidenced by BC-era stone arrangements and an ancient hearth discovery, as well as the stories of the Celtic tribes that inhabited the region at the turn of the millennium and eventually lost to the Romans, as so many did. Because of its location, Brittany has been attacked several times throughout the centuries, and both battle remnants and cultural influences of invaders can still be found today.
Visitors will find a largely untouched coastline in Brittany, with small fishing villages and lots of room to roam; hiking and biking through the region is a popular pastime. Cider and beer are the most popular drinks, and Brittany's oysters are some of the finest in the world. 
Rennes
Rennes may be the region's most recognized city due to its proximity to Mont St-Michel just over the border in Normandy. Due north and just along the coast from Mont St-Michel is Brittany's very own St-Malo, a walled city whose ramparts give visitors an excellent view of the almost surreal tide movements of the region. It has a thriving student community that keeps it young and daily markets from Tuesdays through Saturdays that bring out the locals. 

Brest
Brest lies just inland from the westernmost edge of Brittany and is largely undiscovered by the tourist hordes. Its harbor is home to an important military base, and its involvement in World War II left the city almost in ruins. However, there is still much to see, including the walled Chateau de Brest, the Tanguy Tower and the heavily Breton Recouvrance quarter of the city, where sometimes it may seem like a separate country all its own.

Nantes
Nantes is not in Brittany; rather, it is the capital of the Loire region. But its history is largely Breton, and no visit to Brittany is complete without a stop here. Don't miss the museum at the Castle of the Dukes of Brittany to learn about the area's heritage.

Read More
Show Less
0 Tours and Activities to Experience Brittany (Bretagne)
No results found!
Did you know?
You can reserve your spot today and pay when you're ready.
You can reserve your spot today and pay when you're ready.
Learn more