Lake Guatavita Tours and Activities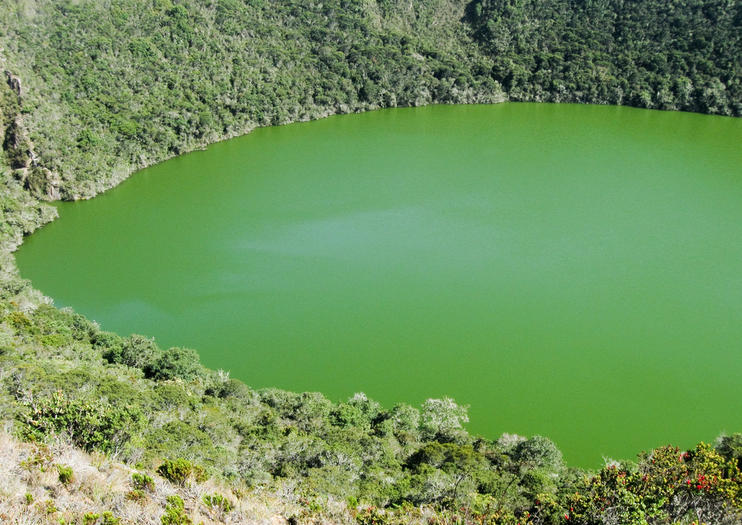 The Legend of El Dorado, the "Golden Man," once inspired the Spanish conquistadors to historic acts of bravery, blunder, and bloodshed. Those stories of outrageous wealth and waste almost certainly started here, with the glittering pre-Columbian ceremonies that once took place at this small crater lake. (Which is really the lake's first mystery; though geologists speculate that a meteor made this scenic spot, no one knows for sure.)
The rumors that captivated the cold-hearted conquistadors told of Muisca shamans and chiefs completely covered in gold and draped with every sort of gem and precious metal. These gleaming and godlike figures would then be carried out on ceremonial rafts to the center of pretty little Lake Guatavita, where they would pour their riches into the water to appease some monster, perhaps a serpent god, hiding below its deceptively serene surface.
While there was apparently some truth to this story and new political figures were indeed painted with gold dust as some sort of initiation, thus far the truth hasn't justified so many fool's errands into the feverish jungles.
The conquistadors were but the first to try draining and dredging Lake Guatavita for its bounty; but all they found were a few gold pieces. In 1580 enterprising businessman Antonio de Sepulveda cut a wedge deep into the lake rim, deepened in 1912 by British engineer Harley Knowles. They, like their forebears, found only a few glittering artifacts worth far less than their investments. As if to taunt future prospectors, the lake finally gave up its famed Muisca Raft in 1968, a tiny, beautiful, cast-gold depiction of Ceremony of El Dorado.
The tour of the tiny lake located 55km (34mi) northeast of Bogota, takes less than an hour and swimming is strictly off limits. Plan to spend some time in the pretty whitewashed town of Guatavita, a charming colonial gem worth a stroll for its souvenir shops and attractive little eateries.
Address:
Guatavita, Cundinamarca, Colombia
Read More
Show Less
62 Tours and Activities to Experience Lake Guatavita
Did you know?
You can reserve your spot today and pay when you're ready.
You can reserve your spot today and pay when you're ready.
Learn more