Orlando Travelers Recommend
---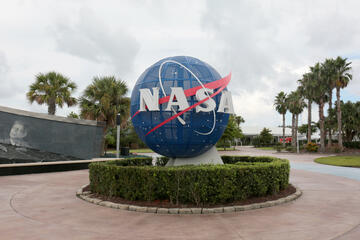 64 Tours and Activities
Nothing says "all-American family vacation" like a trip to down to sunny Orlando, Florida. I don't think the kids will give you much of a choice here. They want Mickey, and they want him now. Don't worry though, there is more than enough excitement to go around. Go visit Nemo at The Seas with Nemo & Friends aquarium or check out the futuristic flight simulator Mission: Space. The other must-see theme park in Orlando, the excitement continues at Universal Studios with the Terminator 2: 3-D Show, Shrek 4-D,Jimmy Neutron's Nicktoon Blast, and the kid-friendly Curious George Goes to Town. If Day 3 happens to be your last, there is no better way to enjoy it out than with Disney's Magic Kingdom. If there is one park that can make you feel like a child again, this is it. If you get a Fastpass, you can zip through the lines at Splash Mountain, Thunder Mountain Railroad, or the Magic Carpets of Aladdin.
Learn More
---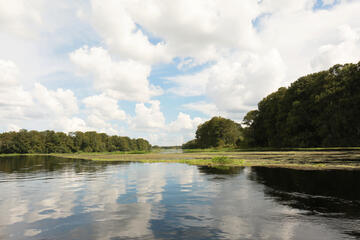 8 Tours and Activities
The Everglades, covering much of the southeastern tip of Florida, is more than a big swamp full of alligators. True, you will see alligators - lots of them - but this unique subtropical wilderness also supports such creatures as American crocodiles, bottlenose dolphins, manatees, snowy egrets, bald eagles and ospreys. And amid the mangroves, cypress, hardwood hammocks and miles of sawgrass, there are endless opportunities for hiking, bicycling, canoeing, kayaking, or taking an airboat ride. Spot alligators on a day-trip along the Tamiami Trail or take a two-hour tram tour in Shark Valley. The visitor center at Big Cypress National Preserve has great exhibits for kids and an outdoor, water-filled ditch popular with alligators. When hunger pangs set it, stop in Everglades City for a plate of gator nuggets and frog's legs. The best time to visit is during dry season – from December to April – when the weather is mild and pleasant and the wildlife is out in abundance.
Learn More
---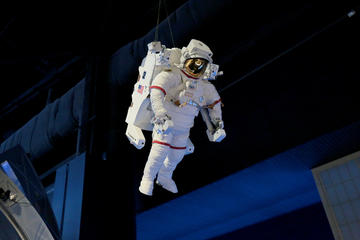 54 Tours and Activities
While Orlando has much to offer any visitor, sometimes you just need a change of scenery for a few hours. Luckily, the city offers an array of easily accessible and worthwhile day trips. To help you plan your nearby jaunt, here are some suggestions. Tampa While visiting attractions in Tampa is worth a week of its own, the city is easily accessible and one of the best day trips from Orlando as it's located only an hour and 15 minutes southwest. Homosassa Springs Wildlife State Park Located about an hour and a half west of Orlando you'll find Homosassa Springs Wildlife State Park, one of the best places in Florida to view manatees. Silver Springs, Florida Located about an hour and a half northwest of Orlando is Silver Springs Nature Theme Park, one of Florida's original roadside attractions still in existence.
Learn More
---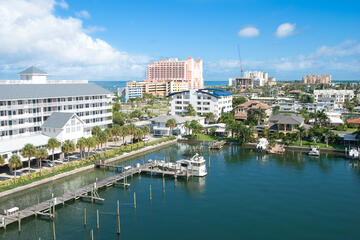 7 Tours and Activities
Touted as one of the best beach destinations in the United States, Clearwater is an easy day trip from Orlando at less than two hours away. Home to white sand coastline, clear Gulf waters, scenic walks and a vibrant community full of events and things to do, it's a great option for anyone wanting a true beach getaway in Florida. The main beach of the city is Clearwater Beach, home to a gentle surf, numerous outdoor activities and a beautiful Beach Walk winding along the coast and littered with palm trees. Here you'll also find numerous restaurants, bars, hotels and attractions offering experiences other than the beach. A Clearwater Beach Day Trip from Orlando with Optional Sea Screamer or Deep Sea Fishing Tour is an exciting option for the day trip. Along with getting to enjoy the beach itself, partake in activities like beach volleyball, snorkeling and boogie boarding, and having lunch at a marina cafe, you can add some adventure to the trip.
Learn More
---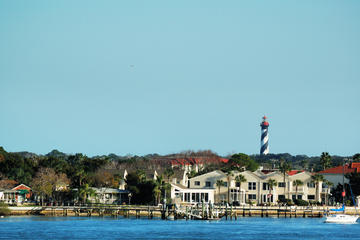 1 Tour and Activity
Site of the longest continuously inhabited European settlement on American soil, the historic Spanish outpost of Saint Augustine was established in 1565 and is located only a short two-hour drive from the city of Orlando. Situated on the same stretch of Atlantic coastline where early French and Spanish explorers battled both Native Americans as well as each other, walking around the cobbled streets of the downtown area is a throwback to days of lawlessness, imperialism and colonial excitement. More than just a former Spanish colony, St. Augustine also once housed Seminole prisoners, was a British territory, and was a founding city in the modern civil rights movement. All of this history is evident as you meaner the old Spanish neighborhoods and Victorian-era homes, or perhaps as you enjoy a coffee from an outdoor patio along the coastal town's downtown promenade.
Learn More
---