Shark Diving
By Viator, July 2011
If you're looking for an adrenaline-fueled underwater adventure with a difference, look no further.

Ever since Jaws terrified cinema-goers in the 1970s, we've been simultaneously scared silly and fascinated by sharks, underwater killing machines whose forebears were swimming around in the oceans 450 million years ago.

Sharks come in a variety of shapes and sizes, and more than 360 species. Whale sharks are the biggest, measuring in at up to 39 feet long (11.5 meters). The fearsome great white is next biggest, at up to 20 feet long (6 meters), and tiger sharks can reach 14 feet (4 meters).

Diving with a reliable operator is the safest way to come face to face with these sharp-toothed predators of the deep. The best operators are involved with shark conservation efforts, and ensure that the experience is safe for both divers and sharks by not needlessly provoking the creatures.

Most shark-diving tours operate in countries where the ocean is warmer, in places like Africa, Australia and the Americas. You might see tiger sharks, hammerheads reef sharks and the ultimate, the Great White.

Diving vessels take you offshore to the sharks' hunting grounds, then send you down into the deep in a submerged shark cage. Some operators use surface cages, so diving experience isn't essential. Shark-diving tours also take you spotting dolphins, seals and other wildlife, or include reef or wreck diving.

Another way to dive with sharks is through an aquarium program, such as those offered in Sydney, Oahu or Florida. And if you're feeling really brave and you're a certified diver, you can join a shark-feeding dive with a professional shark feeder in locations like Nassau or Polynesia, and be surrounded by schools of hungry reef sharks!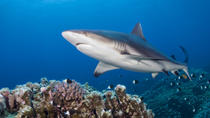 247 Reviews
Book the Oahu Shark Dive to enjoy a thrilling encounter with sharks! Cruise from Oahu's beautiful North Shore to your viewing spot, where you'll observe ... Read more
Location: Haleiwa, Oahu
Duration: 2 hours (approx.)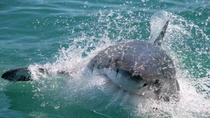 55 Reviews
You may think you're a fear-defying thrill lover, but can you handle the ultimate heart-pounding experience? Find out in Cape Town by cage diving with great ... Read more
Location: Cape Town, South Africa
Duration: 8-10 hours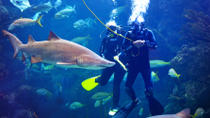 10 Reviews
Dive with the Sharks at The Florida Aquarium in Tampa Bay gives you the opportunity to SCUBA dive with sharks from around the world as well as moray eels, ... Read more
Location: Tampa, Florida
Duration: 90 minutes (approx.)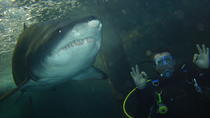 37 Reviews
Come face-to-face with giant sharks, stingrays, turtles and much more on your dive with the sharks at Manly SEA LIFE Sanctuary! Immerse yourself and enjoy the ... Read more
Location: Sydney, Australia
Duration: 2 hours 30 minutes (approx.)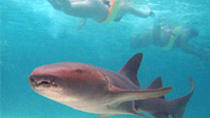 47 Reviews
Discover the beauty of the underwater world as you snorkel and swim along the biggest coral reefs of Punta Cana, making friends with the giant sting rays and ... Read more
Location: Punta Cana, Dominican Republic
Duration: 5 hours (approx.)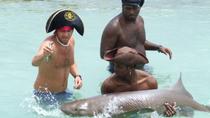 This rare opportunity to swim, feed and touch one of the most feared creatures of the sea. Treasure Reef has enough activities to keep you entertained for ... Read more
Location: Ocho Rios, Jamaica
Duration: Varies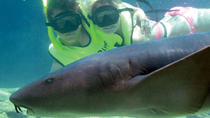 Glide across the surface of a pool with a mask and snorkel as you are surrounded by a small school of nurse sharks. Reach out and touch the backs of these ... Read more
Location: Puerto Plata, Dominican Republic
Duration: Varies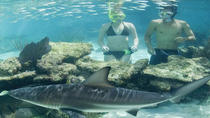 Enter the world of the fascinating, magnificent, and misunderstood shark through this program at Coral World Ocean Park. Jump in the pool with a variety of ... Read more
Location: St. Thomas, US Virgin Islands
Duration: Varies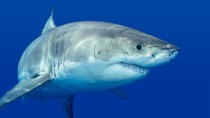 Descend into the blue waters of Gansbaai, a hotspot for the Great White Shark, on a heart-pounding experience, just for your sole group. This private shark ... Read more
Location: Cape Town, South Africa
Duration: 8-10 hours