Top 10 Animal Encounters around the World
By Viator, August 2013
Pat, cuddle, stroke and, in some cases, hide from animals all over the world with our top 10 animal encounters. Basing our itinerary on the top unbeatable animal experiences, we've travelled on safari from the US to Africa, England to Australia, Borneo to Thailand and beyond. Watch out David Attenborough, here we come!
1. Alligators
Where do the alligators grow so mean? Down in Louisiana, of course, and not forgetting
Florida
. You wouldn't want to encounter an alligator in the wild, or your backyard, but gator parks put your safety first with guided wildlife encounters and reptile shows. Stay on for feeding time or take an airboat ride through the swamp.
2. Big Five
An
African animal safari
means spotting the Big Five: lions, elephants, rhinos, leopards and buffaloes. With luck, you have the chance to spot the Big Five at game parks across southern Africa, including Namibia, Kenya, Tanzania and Botswana. But the most popular place to start your Big Five safari is South Africa, more specifically Kruger National Park, one of the largest and most varied parks in Africa.
3. Dolphins
If swimming with dolphins is on your to do list, the world is your oyster. You can encounter dolphins at
Florida
aquariums and
Hawaii
water parks,
San Diego SeaWorld
and Mexico's
Riviera Maya dolphin discovery centres
. An eco encounter with wild dolphins at sea is even more thrilling as the dolphins are free and unconfined. Try snorkelling and swimming with dolphins in the warm waters of the
Bahamas
, off Western Australia or in colder seas off Kaikoura in New Zealand.
4. Donkeys
Just like horses, donkeys were once used as working animals. Over the centuries donkeys have been put to work pulling wagons, carrying humans, tilling fields and milling grain. Now you can visit donkey sanctuaries around the world to learn more about these gentle equines, and try some hands-on donkey grooming and walking. Perhaps the most famous donkey sanctuary is in Devon, but you'll also find them in Africa, Mexico, India, the USA and Australia.
5. Elephants
Thailand's beast of burden is the elephant, and at elephant camps in Lampang, Chiang Rai, Kanchanaburi, Khao Sok and Surin you can take a gentle elephant ride or full on elephant trek through the countryside. To help support elephant conservation efforts, visit the Elephant Nature Park outside Chiang Mai, in northern Thailand, where hands-on elephant encounters include washing, feeding and overnight elephant helper visits.
6. Grizzlies
What's cuter than a baby bear? At US nature parks in locations such as South Dakota you can cuddle baby grizzlies, help with feeding time and see the youngsters at play. Come equipped with binoculars when you visit national parks like Yellowstone to safely spot adult grizzly bears in the wild as they forage for food and amble across meadows. Keep safety in mind though by sticking to designated trails and carry bear spray if you're hiking.
7. Koalas
There are more than 100 of Australia's cutest marsupials in residence at the
Lone Pine Koala Sanctuary
in Brisbane. Not only can you spot the furry grey mammals sleeping in the eucalyptus treetops, at Lone Pine you also get the chance to cuddle a koala and have your picture taken as a take-home memento of your experience.
8. Orangutans
To see orangutans swinging from the trees, head to the sanctuaries and parks of Borneo, Sarawak, Kota Kinabalu and Indonesia. You can see them in the wild from a riverboat in Kinabatangan, or visit a rehabilitation centre at Sepilok, in Sabah, to help feed and care for orphaned orang-utans while they're being prepared for release back into the wild. For a real hands-on experience, visit
Singapore zoo
to share breakfast with orang-utans, the zoo's flagship critters, and then watch them at play in their re-created rainforest habitat.
9. Polar bears
If polar bears are your favorite animal, plan a visit to Churchill in Manitoba, Canada, in October/November. It's one of the southernmost places where you can spot them congregating on the tundra before their wintertime return to their icy feeding grounds in Hudson Bay. Heaps of tours run out of Churchill, often including fly-in access, luxury wilderness lodge accommodation and transportation out onto the tundra to spot the bears in the wild. You might also spot caribou, Arctic foxes, hares and wolves, plus snowy owls and falcons.

10. Whale watching
Southern hemisphere countries like South Africa, Australia and New Zealand are brilliant for glimpsing whales frolicking and spouting, either viewed from the water on-board a cruise or from the land if you time it right. Head to Hermanus in South Africa or Warrnambool in southern Australia to spot southern right whales from the bea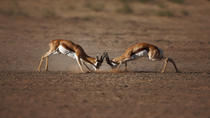 69 Reviews
Visit the incredible Aquila Game Reserve -- the closest game reserve to Cape Town – on this full-day safari tour! With hotel pickup from your central Cape Town ... Read more
Location: Cape Town, South Africa
Duration: 10 hours (approx.)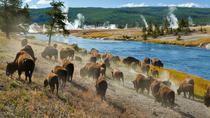 51 Reviews
Explore Yellowstone National Park in search of wildlife on this enclosed vehicle tour with a naturalist guide. In the early morning, you'll get the best ... Read more
Location: Jackson Hole, Wyoming
Duration: 12 hours (approx.)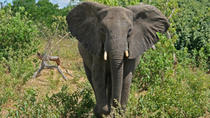 6 Reviews
Visit Victoria Falls and Botswana's Chobe National Park on a 5-day tour from Johannesburg, and enjoy non-stop thrills from start to finish! After flying to ... Read more
Location: Johannesburg, South Africa
Duration: 5 days (approx.)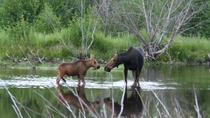 72 Reviews
Explore Grand Teton National Park in search of wildlife on this exhilarating tour by open-air safari-style vehicle in the summer (June 15 - August 31). At dawn ... Read more
Location: Jackson Hole, Wyoming
Duration: 4 hours (approx.)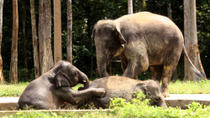 357 Reviews
Enjoy a private tour of the Kuala Gandah Elephant Sanctuary (also called the Elephant Orphanage Sanctuary), an elephant conservation center managed by the ... Read more
Location: Kuala Lumpur, Malaysia
Duration: 8 hours (approx.)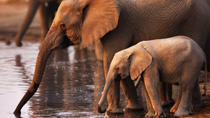 29 Reviews
Spot the "Big Five" at Pilanesberg Nature Reserve then relax at the unique Sun City resort on a packed day trip from Johannesburg. Combining two very ... Read more
Location: Johannesburg, South Africa
Duration: 12 hours (approx.)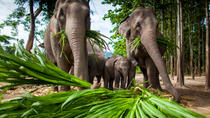 6 Reviews
Take a combo adventure tour and experience the best of rural Chiang Mai's exciting excursions! Get a taste of whitewater rafting on the rapids of the Mae Taeng ... Read more
Location: Chiang Mai, Thailand
Duration: 10 hours (approx.)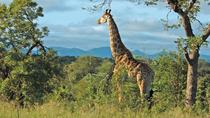 15 Reviews
Spend a day on safari in the magical Hluhluwe Imfolozi Game Reserve on the north coast of KwaZulu-Natal. Located in the heart of Zululand, this huge, well ... Read more
Location: Durban, South Africa
Duration: 12 hours (approx.)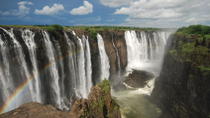 9 Reviews
Visit Africa's breathtaking Victoria Falls on this 3-day trip from Johannesburg with flights and two nights of 3-, 4- or 5-star hotel accommodation included. ... Read more
Location: Johannesburg, South Africa
Duration: 3 days (approx.)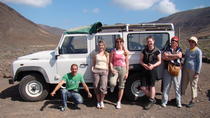 7 Reviews
Explore the natural beauty of Lanzarote from an open-top, 4x4 jeep on this exciting 6-hour tour! With an experienced driver at the wheel of your 6-seater jeep, ... Read more
Location: Lanzarote, Spain
Duration: 5 hours (approx.)