Explore Mexico's original seaside resort on a full-day guided tour that takes you into the heart of this former celebrity haven and beyond. Visit the La Quebrada cliffs, known for the professional high divers that perform from their perch each day. Admire the lush tropical gardens of the Princess Hotel, where famed entrepreneur and aviator Howard Hughes once resided. And peruse a local crafts market for handmade wares. Along the way learn stories of Acapulco's intriguing past, from legendary pirates to Hollywood royalty.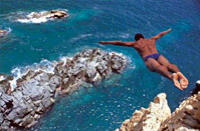 The Acapulco city tour takes you to the most interesting and historic points in Acapulco including the main square and the hotel zone. Included is a relaxing drive along the scenic highway, where there will be a stop to take photographs of beautiful Acapulco Bay.

Continue on to the spectacular pyramid shaped Princess Hotel where you will have the opportunity to stroll through the stunning tropical gardens. Before returning to the city, there will be a stop at a craftwork market for some local shopping!

After passing through the hotel zone and the main square, you will finally reach the La Quebrada cliffs where you will be able to witness the world famous daredevil cliff divers, who risk their lives in the daily daytime and nighttime shows.