Explore Petra, Wadi Rum and Aqaba in Jordan on this 4-day tour from Amman, with a private guide. Leave Amman for a guided visit of UNESCO-listed Petra, and then continue to the Wadi Rum desert valley. Stay overnight at a tented camp complete with a delicious campfire dinner, and enjoy a morning 4x4 ride around the spectacular canyons and dunes. Lastly, lounge on the beaches of Aqaba. Two nights of 3-, 4- or 5-star accommodation, one night at the Wadi Rum desert camp, and daily breakfasts and dinners are included.
Why Our Insiders Chose This Tour
Get out of the city and see the many different landscapes of Jordan. It's the perfect experience for relaxing by the beach, seeing the sights and sleeping under the stars!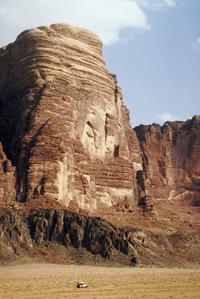 Discover three of Jordan's most famous attractions on this 4-day tour, with your own private guide. Leave bustling Amman and visit the rose-red ancient city of Petra before enjoying a desert camp overnight stay and 4x4 ride at Wadi Rum, and a visit to the beachside resort of Aqaba on the following days.
Your tour includes round-trip transport by private, air-conditioned vehicle with your driver-guide; two nights of accommodation in your choice of 3-star, 4-star or 5-star hotels in Petra and Aqaba; plus overnight at the desert camp in Wadi Rum, sleeping in a Bedouin-style tent. Daily breakfast and dinners at each hotel and the desert camp are included, as are entrance fees.
Itinerary
Day 1: Amman – Petra (D)
Start your tour with a hotel pickup in Amman, and then travel by minibus to Petra, the rose-tinged rock city in the Jordan's Shara Mountains. After traveling for around 3.5 hours, check in to your hotel in time for dinner, and then spend the rest of your evening at leisure. Many of Petra's daytime visitors leave in the late afternoon, so the evening is the best time of the day to explore the streets at leisure.

Day 2: Petra – Wadi Rum (B, D)
Enjoy a hotel pickup after breakfast, and then start your Petra sightseeing tour with a visit to the Siq, the city's most dramatic natural feature. Acting as an entrance corridor, the 1-mile (1.5-km) gorge – lined by looming sandstone cliffs – leads to the center of the city. Pass its final bend and come face-to-face with Petra's crowning glory – the magnificent Treasury. Called Al-Khazneh locally, the building is famous for its colonnaded Hellenistic façade, carved into the cliff face to dramatic effect. Pose for photos in front of the monument, and then continue your tour of town, learning about the Nabataeans who built the city.

Visit Petra Church – a beautiful structure, re-designed by the Byzantines – and then walk around the Royal Tombs, a vast burial site just above the valley floor. Take a look inside the ampitheater and imagine it in its heyday when some 3,000 people sat inside it.

After a break for lunch (own expense), return to your minibus and travel further south to Wadi Rum, the vast desert where scenes fromLawrence of Arabia were filmed. Your destination is a large camp site in the middle of the desert, where you'll spend the night enjoying dinner and sleeping in tents.

Day 3: Wadi Rum – Aqaba (B, D)
After breakfast, hop inside your spacious 4x4 jeep, and then explore Wadi Rum in a caravan convoy, traveling over red-sand dunes and around the granite mountains that punctuate the desert landscape. After your 2-hour tour of the desert, return to the camp site to collect your bags and then leave Wadi Rum by minibus.

Travel to nearby Aqaba, Jordan's sunny southern city, and then check in to your hotel. Spend the rest of your afternoon at leisure, and then enjoy dinner at your hotel in the evening.

Day 4: Aqaba – Amman (B)
Enjoy breakfast and then the morning is yours to do as you please. Perhaps visit the city's famous beaches to lounge at leisure, or pay a visit to Ayla – Aqaba's ancient church. Meet your guide at the pre-arranged time, check out of your hotel and travel north to Amman. Your 4-day tour finishes with a drop-off at your Amman hotel.