Experience the Jordan of old in Al Salt, one of the country's oldest and prettiest towns. This private 6-hour trip transports you to this history-steeped town for a locally guided walking tour along its 'Harmony Trail,' seeing its honey-colored Ottoman mansions, markets and more. Take in the Abu Jaber Museum, Al-Khader Church and Great Mosque, enjoy a home-cooked lunch, and free time for shopping. Private transfers, a local guide, and lunch included.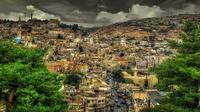 After hotel pickup in Amman, travel north to ancient Al Salt, once earmarked as a capital of Jordan.

Built on hills, Al Salt was ruled by the Romans and Byzantines before enjoying prosperity under the Ottomans from the 1890s to the 1920s. Today, Christian and Muslim communities live here in harmony, with mosques and churches sitting side by side.

Meet a local guide and follow the 'Harmony Trail' through the yellow sandstone Ottoman-era buildings and streets. Hear about Al Salt's past from your guide, and visit the museum at the Abu Jaber House. Admire the grand house, built by a wealthy merchant in 1892, and chart the town's history through the exhibits.

Stroll through Al Ein Plaza, the main square, and visit the English Evangelical Hospital Complex for views over the old quarter, with its higgledy-piggledy rooftops, churches, and mosques.

See the 19th-century Qaqish House, with its high arched windows, and take in the Great Mosque, dating to the 14th century. View the Dormition of Virgin Mary Orthodox Church School, and wander around the Al-Khader Orthodox Church, one of the oldest shrines in the area, and used by Christians and Muslims. Then, visit the Madafat Al Khalili, a traditional family meeting place replete with decorative interiors.

Afterward, visit a traditional home for a simple-but-tasty local lunch. Savor a dish like magloubah (layers of rice, vegetables and chicken) and a sweet treat. Learn about traditional Jordanian cooking and spices, and watch a demonstration of how traditional garments are worn, trying them on if you wish.

Finally, amble down Al-Maidan Street, passing the Latin Church Complex and entering Al-Hammam Street, the main market street. Enjoy free time to peruse the bustling food, spice, and crafts stalls, and snap up some souvenirs (own expense).

Your tour ends with a hotel drop-off in Amman.