Escape bustling Amman for the day and see three of Jordan's most important religious and historical sites on a private 8-hour trip. In addition to viewing the famous Mosaic Map at Madaba, tour Mt. Nebo, where Moses is thought to have seen the Promised Land, and visit Bethany, Jesus' believed baptism site on the River Jordan. Your package includes guided tours at Madaba and Mt. Nebo, plus entrance fees and private round-trip transportation.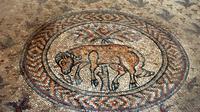 Meet your driver at your Amman hotel, and settle inside your private, air-conditioned vehicle. Then, set off on your 8-hour tour, traveling south to the town of Madaba, known for its early medieval church mosaics, including the prized Mosaic Map of the Holy Land.

On arrival, meet a local guide and visit St. George's Church, the 19th-century home of the famous 6th-century mosaic that depicts the Holy Land of the time. Admire the detailed renderings of the Dead Sea, Jericho, and Jerusalem, and note how the map incorporates references to famous biblical locations.

Next, continue to Mt. Nebo, the mountain ridge where it's believed Moses viewed the Promised Land before he died. Discover this holy place with a guide, admiring the panoramic views of the Jordan Valley, and on a clear day, to Jerusalem and Jericho, and view the modern sculpture of Moses' staff.

Plus, take a tour of the mosaics at Mt. Nebo's church, all dating from between the 4th and 6th centuries. Admire the still-vivid scenes of soldiers, horses, hunters, and animals such as peacocks and lions, and hear how and why they were created from your guide.

Then, continue to the east bank of the Jordan River and UNESCO-listed 'Bethany Beyond the Jordan.' Known as El-Maghtas in Arabic, this site is believed to be where Jesus was baptized by John the Baptist, and was sanctified as such by the Vatican and a visit by Pope John Paul II in 2000.

Soak in the sense of spirituality, and view the riverbank ruins of Roman and Byzantine churches, caves, and baptismal pools. Learn, too, how the site is held holy in Christianity, Judaism, and Islam as the place where Elijah is thought to have ascended to heaven.

Afterward, return to your Amman hotel, where your tour concludes.

Please note: the Bethany in this trip should not be confused with Bethany in Jerusalem, where it's believed that Mary Magdalene lived and Lazarus rose from the dead.