See the highlights of ancient and modern Amman on this private 4-hour city tour. Traveling by private, air-conditioned vehicle with an informative private guide, discover the many different faces of Jordan's capital, from its dusty classical ruins to vibrant markets and the upscale malls of the modern city. See top Amman attractions including the stunning Roman amphitheatre, King Abdullah Mosque and the ruins and archaeological museum of the hilltop Citadel. Upgrade to finish with a lunch of delicious 'mezze' (small dishes) or lunch followed by a pampering Turkish bath experience.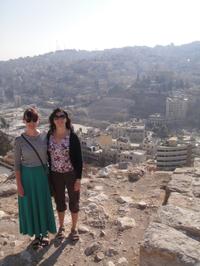 Begin your 4-hour private tour with a morning pickup from your central Amman hotel. Meet your informative private guide who doubles as your driver, and start out on your explorations of the Jordanian capital's highlights.

As you travel, hear about the history of this fascinating city, whose past stretches back to 3500 BC and before. Hear about the city's days under the Roman Empire, and how it was occupied by the Nabataeans and Byzantines.

View one of Amman's star attractions, the King Abdullah Mosque, famous for its blue mosaic dome, and the nearby Coptic Church. Then, continue to the Roman amphitheater, a magnificent hillside structure believed to have been built in the 2nd century.

Admire the symmetry and scale of the theatre as your guide explains how it was built as part of the Roman city of Philadelphia, and could accommodate up to 6,000 spectators.

Next, make your way to Amman Citadel, the hilltop collection of antiquities that looms over the city. Explore the timeworn Roman, Byzantine and early Islamic relics, and pay a visit to the Citadel's Archaeological Museum to inspect its collections of ancient artifacts discovered at sites from across Jordan.

Pass the Raghadan Palace, the burial place of the late King Hussein, and ride around the downtown area to see its vibrant markets, traditional mosques and churches. Then, delve into the upscale neighborhoods of Abdoun and Swefieh, where luxury shopping malls and swanky private villas line the streets.

Your 4-hour tour ends back at your hotel. Alternatively, ask for a drop-off at one of the malls on your tour or at Abdali Boulevard, a stylish new enclave of designer shops regarded as Amman's up-and-coming downtown area.

Tour plus Arabic Lunch
Upgrade to a 6-hour tour and after your city tour, savor a mouth-watering lunch of Arabian mezze at a local restaurant. Enjoy an assortment of small plates, such as barbecued chicken and beef, hummus, salads and breads, and after your meal, relax with a hotel or shopping mall drop-off — your choice!

Tour plus Arabic Lunch and Turkish Bath
Upgrade to an 8-hour tour and following a succulent lunch of tasty Arabian mezze, wallow in a luxurious Turkish bath experience, including an invigorating steam room session, soapy scrub and muscle-melting massage. Then, duly refreshed and revitalized, relax with your choice of either a hotel or shopping mall drop-off.