Combine southern Jordan's greatest natural wonder with a dose of adventure on this private 8-hour trip to Wadi Rum from the Dead Sea. Ride a 4x4 with a Bedouin driver around the UNESCO-listed desert valley, seeing rock formations, canyons, dunes, ancient inscriptions, and more. Upgrade to add a 30-minute camel ride to explore in time-honored Bedouin style. Entrance fees, 4x4 tour, and private round-trip transport with hotel pickup and drop-off included.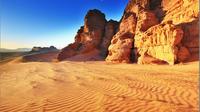 Book your selected tour option. Then, on the day, meet your driver at your Dead Sea hotel, and travel south through Jordan's rugged landscapes to Wadi Rum.

This UNESCO-listed desert valley is known for the beautiful red, pink and orange hues of its cliffs and gulleys, and sometimes called the 'Valley of the Moon,' for its incredible, otherworldly rock formations. It's also famous for its Bedouin peoples, who have made homes here through the centuries, and for its connections with T.E. Lawrence, the World War I British military officer, otherwise known as 'Lawrence of Arabia.'

On arrival, leave your driver, and hop inside a 4x4 driven by a local Bedouin for a 2-hour tour of the valley. Rumble through the gorges and ravines, navigate dunes and river beds, and soak up the stunning scenery as you hear about the history and geography of this remote and untouched wilderness.

Stop to see beauty spots and landmarks such as canyons, pinnacles, and rock formations, and pull up to view pre-Christian etchings carved into some of the rock walls. Plus, if you've upgraded, enjoy a 30-minute camel ride, taking in the timeless beauty of your surroundings in time-honored Bedouin fashion.

When it's time, meet back up with your driver, and return to the Dead Sea, where your trip finishes with a hotel drop-off.