Stand beside the Jordan River where it's thought Jesus was baptized on this private 4-hour trip from Amman. Travel to the 'Bethany Beyond the Jordan' baptism site, also known as El-Maghtas, and tour the riverbanks and ruins of ancient churches, wells, and baptismal pools. Entrance fees and round-trip private transport included. If you wish, upgrade to add on a visit to the nearby Iraq Al Amir caves and pre-Roman Qasr al-Abad palace.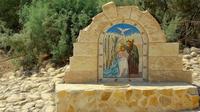 Choose your required tour option on booking. Then, meet your driver at your Amman hotel, and travel by private, air-conditioned vehicle to the River Jordan.

On route, soak in views of Jordan's barren landscapes, and pull up at 'Bethany Beyond the Jordan,' known as El-Maghtas in Arabic, the site on the eastern bank of the river where it's believed Jesus was baptized by John the Baptist.

Meet up with a local guide, and take a tour of the riverbanks and key excavated ruins, learning how the site was sanctified as the place of Jesus' baptism by the Vatican and a visit by Pope John Paul II in 2000.

Drink in the powerful sense of spirituality, and see the remnants of Roman and Byzantine churches, caves, wells, and baptismal pools. As you walk, listen as your guide explains why archaeologists believe that it was here that John the Baptist lived, preached, and performed baptisms.

Hear more about this famous Christian pilgrimage spot and how it is held holy in all three major religions — Christianity, Judaism and Islam — for being the believed site of the Prophet Elijah's ascension to heaven.

Afterward, reconvene with your driver and return to Amman, where your tour ends with a hotel drop-off.

Alternatively, if you've chosen to upgrade, travel to Iraq Al Amir, home to numerous cliffside caves dating to the Copper Age. Drive through olive groves and pine trees, and after viewing the caves, continue to nearby Qasr al-Abad, a restored pre-Roman building dating from the 2nd or 3rd century BC.

Admire the exterior, pillars, and animal carvings as you walk around the age-old edifice, thought to have been a villa or minor palace. Then, rejoin your driver and conclude your tour with an Amman hotel drop-off.

Please note: the Bethany in this trip should not be confused with Bethany in Jerusalem, where it's believed that Mary Magdalene lived and Lazarus rose from the dead.