Enjoy ample time to explore glorious Petra on this 3-day private tour from Amman, with hotel accommodation and transport included. On the first day, discover this rock-cut UNESCO World Heritage site, carved 2,000 years ago, on a guided tour, seeing highlights such as the Treasury and Royal Tombs as you learn about their history. Then, the next day, with tips from your guide, delve further into Petra's wonders and other sites as you wish. Your choice of Petra hotel accommodation, daily breakfasts and dinners, and round-trip private transport, are included.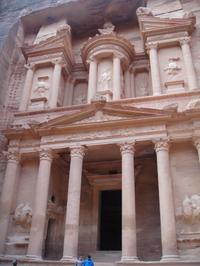 Experience spectacular Petra with a private guide and enjoy free time to explore this UNESCO World Heritage site independently on this 3-day tour from Amman.

Carved by the Nabataeans more than 2,000 years ago, Petra deserves more than a day's exploring, and this tour gives you time to do it justice. On Day 1, enjoy a 2-hour tour with a private local guide as an introduction to its highlights, seeing the magnificent Treasury and sites such as Petra Church, the Theatre and Royal Tombs. Then, on Day 2 and during the morning of Day 3, get the opportunity to delve further into its treasures at leisure.

Your tour includes private round-trip transport from Amman, three nights' accommodation in your choice of 3-, 4-star or 4-star superior hotels in Petra, plus two breakfasts and two dinners. Other meals, drinks and activities are at your own expense.

As this is a private tour, please list any special interests you have — such as architecture, history and culture — so your driver can better prepare for your experience in advance.

Itinerary
Day 1: Amman - Petra (D)
You will be picked up at approximately 8.00am from your hotel in Amman. Arriving in Petra at around 10.30am you will check into your hotel, head to the red-rose city and meet your guide for you 2 hour tour of the city. First, you will walk the siq, a narrow path of 1.2 kilometers, which is the main entrance to the city. At the end of the siq, you will see the treasury "Khazneh" - which was believed to hold countless treasures. The first view of the "Khazneh" is breath-taking. Other monuments you can see are the Theatre, the Byzantine Church, and the Royal Tombs. Be sure to get some tips on which areas you should explore the next day!

Overnight accommodation and dinner is at your selected Petra hotel.

Day 2: Petra (B, D)
After breakfast, you will be collected by your driver to return to the Nabatean Red Rose City of Petra, which is one of the Seven Wonders of the World. Your day is free to explore at your leisure, climb high to the temple and absorb the beautiful views or head inside the tombs. A city 260 kilometers from Amman carved in stone more than 2000 years ago in order to dominate the trade routes of ancient Arabia.

Overnight accommodation and dinner is at your selected Petra hotel.

Day 3: Petra - Amman (B)
After breakfast, check out of the hotel and spend the rest of the morning at leisure. Make arrangements with the driver for a suitable time to return to Amman. The driver will drop you off at your Amman hotel.