Take the hassle out of getting to Universal Studios Hollywood with this convenient transfer service. Skip the hassle of driving and finding a parking space at the popular theme park, and instead book this round-trip transfer. Get picked up from your Anaheim hotel in the morning and travel by coach to Universal Studios Hollywood, where you'll enjoy a full day to explore before returning to your hotel.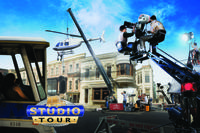 Following a morning pickup from your hotel in Anaheim, you'll travel by climate-controlled coach to Universal Studios Hollywood, where thrilling rides, shows and adventures await you.

After your scenic drive, spend the entire day at the family-friendly theme park to spend as you wish. See the Itinerary for a select list of popular attractions and rides.
Itinerary
Universal Studios Rides, Shows and Attractions Include:

TRANSFORMERS™: The Ride 3D:
This is an immersive, next-generation thrill ride that blurs the line between fiction and reality. Fusing HD 3-D media and flight simulation technology, this epic ride is unlike anything you've ever experienced. Based on the popular movie franchise, this mind-blowing new TRANSFORMERS™ adventure puts you in the middle of the ultimate war zone. Fight alongside Optimus and try to survive as you protect the Allspark from Decepticons® over four stories tall. Remember, the future of the human race is counting on you. Prepare for the greatest battle you'll ever ride!

Studio Tour:
Go behind-the-scenes where movies are made and where Hollywood's biggest stars work daily. Take the world famous Studio Tour for a fresh, behind-the-scenes look at moviemaking secrets. Experience the largest movie set street expansion in Hollywood history built with creative consultation from Steven Spielberg himself. See the sets from ABC's hit series Desperate Housewives and witness special effects used in blockbusters like The War of the Worlds, Universal Pictures' King Kong and The Fast and the Furious: Tokyo Drift.

King Kong 360-3D:
Your heart pounds. Your adrenaline flows. Your survival instincts are on overload. You're caught in the middle of a terrifying struggle between a 35-foot T-Rex and the 8th wonder of the world – King Kong. You've never experienced him this real before. Welcome to King Kong 360 3-D the world's largest, most intense 3-D experience. Here, you won't just see it, you won't just hear it: you'll feel it. It's 3-D to the next level. Terror has a new home: King Kong 360 3-D created by Peter Jackson.

The Simpsons Ride™:
Join America's favorite animated family as they take you on a wild and hilarious adventure on The Simpsons Ride™. Ride alongside Homer, Marge, Bart, Lisa and Maggie as Springfield comes to life with action packed fun and excitement at every turn.

Revenge of the Mummy- The Ride:
Face heart-pounding special effects and shocks at every turn, plus raging mummy warriors, on a rollercoaster ride into the world of The Mummy!

Shrek 4-D™:
Join Shrek and Donkey in a stunning 4-D adventure to rescue Princess Fiona, with an extra dimension that lets you FEEL the action- right from your own seat! Four dimensions of thrills add up to one amazing experience.

Jurassic Park® - The Ride:
Survive a Jurassic jungle river adventure 65 million years in the making. Escape the gigantic and ferocious T-Rex and other dinosaur terrors, with only one way out... straight down an 84-foot (25-meter) waterfall in a raft!

WaterWorld® - A Tidal Wave of Explosive Action:
High-powered stunts, extreme action, death-defying feats and breathtaking pyrotechnics -- all just inches away!

The Adventures of Curious George:
Come monkey around with Curious George. Soak up the thrills of a 500-gallon water dump and unleash thousands of flying foam balls in this wild play area just for kids...and the young at heart.

Special Effects Stage:
Don't miss the Special Effects Stage, where you'll learn the secrets behind the making of your favorite blockbuster movies. Become an expert in Hollywood movie-making as you learn about CGI, stop motion, motion capture, and 3-D technology

Universal's Animal Actors:
Come see what happens when the world's most talented animal stars take over the show! You're sure to laugh and be amazed at this live performance. Who knows, you may even co-star!

The NBCUniversal Experience: Celebrate Universal Studio's Centennial in this interactive, behind-the-scenes exhibit featuring authentic props, wardrobe and artifacts from 100 years of Universal film history!

The Blues Brothers®: Treat yourself to the musical stylings of Jake, Elwood and the coolest blues band to ever take the stage!