Pair dogsledding with a small-town aurora hunting experience, and you have a memorable overnight trip in Talkeetna from Anchorage. Our first stop is to visit Iditarod champion sled dogs and let them pull you through snow-covered meadows. In Talkeetna, one of the best locations to see the Aurora Borealis, snowshoe to a prime spot to glimpse the celestial phenomenon. Meals, overnight accommodation at the historic Talkeetna Roadhouse or similar, and round-trip transport from Anchorage hotels all are part of this great package.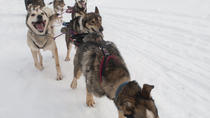 Staying in Anchorage and looking for an opportunity to experience dogsledding and the Aurora Borealis? Sign up for this overnight tour to Talkeetna! With its views of the Alaska Range and the stars stretched above it, Talkeetna provides the perfect vantage point for watching the northern lights. Then, let the sled dogs take you through the fields of Matanuska Valley.

Enjoy a choice of rooms for an authentically Alaskan experience. At the Talkeetna Roadhouse, cozy up in a room equipped with one double bed, or select a room that features both double-size and twin-size beds for more space. Restrooms are located just down the hall in true Roadhouse fashion.

If you prefer more private accommodations or need to avoid stairs, upgrade to Trapper John's Cabin. The rugged cabin, which features trapping memorabilia and cozy flannel sheets, also includes a full kitchen, electricity, a TV with VHS/DVD and the much photographed '5-Star Outhouse' — although you won't need to use it, since the cabin now comes equipped with an indoor bathroom.

See Itinerary below for details of each day.
Itinerary