Soak in the beauty of the world's most remote continent on a 14-day cruise to Antarctica. Set out from Ushuaia for the Antarctic Peninsula, South Shetland Islands and the Antarctic Circle, marveling at the emerald-colored ice formations and abundance of sea birds en route. Split your time between the boat and on land, exploring these vast white landmasses in the company of knowledgable guides who will provide background on local flora, fauna and history as you navigate the icy terrain. Relish in pink night skies, berg-strewn passageways and penguins galore.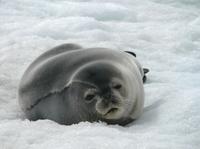 Experience the massive continent of Antarctica from the comfort of your cruise ship, hopping aboard a Zodiac to explore the land of blue-hued ice and snow. You'll spot a variety of seabirds and other wildlife in this fantastical world!
Your 14-day Antarctica journey includes onboard presentations by a knowledgeable and professional crew, 36 meals and ground transportation to Ushuaia International Airport. Enjoy 13 nights accommodation in double or triple cabins aboard the cruise ship, which holds a maximum of 189 passengers, plus one night accommodation in Ushuaia.
Itinerary
Day 1: Ushuaia (D)Start your Antarctica adventure in Ushuaia, the world's southernmost city and the capital of Tierra del Fuego. During your free time, explore the steep streets, hiking up Avenue San Martin for fabulous views of the Beagle Channel. You'll find charming shops and eateries as well as eclectic museums that inform you about the history of this seafaring town.
Overnight: hotel accommodation in Ushuaia
Day 2: Ushuaia -- Beagle Channel (B, L, D)Meet your guide and fellow passengers aboard your cruise ship and prepare to set sail through the exquisite Beagle Channel. From the decks of the ship, you'll spot an array of interesting birdlife, such as the black-browed albatross and the elusive snow petrel.
Overnight: cabin accommodation aboard the cruise ship
Day 3-4: Drake Passage (B, L, D)Get ready to cross the Drake Passage, infamous for its rough seas. Named after the 16th-century explorer Sir Francis Drake who accidentally discovered it, this 500-mile (800-km) wide body of water lies between the southern tip of South America and Antarctica.
The passage is abundant with bird and sea life, and you'll spot albatross, penguins, whales and dolphins from the decks of the ship. Enjoy the gorgeous ocean views portside or join one of several engaging presentations. Be entertained on board with lectures from experts covering such topics as whales, birdlife, expeditions, geology and – of course – Antarctica.
Overnight: cabin accommodation aboard the cruise ship
Day 5-7: Antarctic Peninsula and South Shetland Islands (B, L, D)Awaken to your first sighting of the amazing, icy mass that is Antarctica. As your cruise ship approaches, get out your camera for great photo opportunities from the deck. Look for breaching whales and admire the breathtaking display of icebergs in the Southern Ocean.
Then, prepare to set foot on the vast, white continent itself, stopping at a variety of landing sites, such as Neko Harbour, Orne Harbor and Paradise Bay. You'll be mesmerized by the allure of Antarctica's beauty, where an abundance of wildlife remains undisturbed by human contact.
Spend the next few days exploring the white sheets of this frozen continent and learning about its inhabitants from onboard experts. Depending on the weather, you'll speed from the cruise ship to the landmass in a Zodiac each day, marveling at the brilliant blue colors as your boots crunch over the ice beneath your feet.
Overnight: cabin accommodation aboard the cruise ship
Day 8-9: The Antarctic Circle (B, L, D)As your cruise ship crosses the Antarctic Circle, feel free to celebrate this momentous event with a glass of bubbly! In this rarely visited part of the world, keep an eye out for Weddell seals and fantastical ice formations that appear as if they've floated in from another world.
Overnight: cabin accommodation aboard the cruise ship
Day 10-11: Antarctic Peninsula (B, L, D)Traveling back toward the Drake Passage along the western Antarctic Peninsula, you'll take more Zodiac rides and disembark on the enormous landmass. On your expeditions from cruise ship to continent, your guide will point out chinstrap, Adélie and gentoo penguins, as well as fur, crabeater and Weddell seals.
Keep an eye out for amazing minke and humpback whales that inhabit the South Pole. You'll be amazed by Antarctica's cobalt waters, blue-hued ice and pink night skies.
Overnight: cabin accommodation aboard the cruise ship
Day 12-13: Drake Passage (B, L, D)As the ship once again traverses the Drake Passage, pass the time by listening to the final series of lectures from a range of experts. Look for wildlife from the ship's deck or simply curl up with a book inside. Before arriving at your destination, you may want to reminisce about your journey with new friends.
Overnight: cabin accommodation aboard the cruise ship
Day 14: Ushuaia (B)Share a final breakfast with your shipmates before disembarking in Ushuaia, where your Antarctic expedition ends. You'll be transferred to Ushuaia International Airport for your onward flight, or you can stay in town and create your own itinerary.