Journey to the end of the earth on an unforgettable 20-day round-trip cruise to Antarctica. Depart from Ushuaia aboard a comfortable ship, navigating icy waters and past islands inhabited by fur seals and king penguins en route to the world's most remote continent. Onboard specialists will fill you in on the region's history, geology, and wildlife along the way. Hike the Falkland Islands' beachheads, travel via Zodiac to South Georgia Island and see Shackleton's burial site, kayak berg-strewn waters, whale watch and even take a 'polar plunge' in the bay.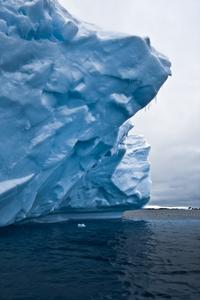 Aboard your comfortable cruise ship, which holds a maximum of 122 passengers, embark on an incredible tour to the world's most remote continent – a place where a variety of penguins show off on rocky shores. Enjoy 18 nights accommodation in a twin or triple cabin aboard the cruise vessel, plus one night accommodation in Ushuaia.
Your 20-day Antarctica journey includes onboard meals in the ship's dining room, with coffee, tea, cocoa and tap water available at any time. You'll be well taken care of by an expedition leader plus seven to 18 crew members, including specialists who provide onboard presentations and Zodiac drivers who transport you to remote sites.
Itinerary
Day 1: Ushuaia The world's southernmost town of Ushuaia is your launching pad for your Antarctic adventure. This picturesque city, the capital of Tierra del Fuego, is a great base for outdoor hikes or strolls up steep streets to enjoy unparalleled views across the Beagle Channel.
If you arrive early, consider a visit to Tierra del Fuego National Park, located 7 miles (11 km) west of town. Whatever you choose, you'll find it easy to navigate this charming town at el fin del mundo (the end of the world), where you're free to explore the shops, museums and restaurants before your true expedition begins!
Overnight: Albatross Hotel in Ushuaia
Day 2: Ushuaia -- Beagle Channel (B, L, D)Step aboard your cruise ship, your home away from home for the next week, and get ready to journey through the narrow waters of the lovely Beagle Channel. From the ship deck, look for rich birdlife, such as penguins and cormorants or the elusive snow petrel and black-browed albatross as you pass the islands of Tierra del Fuego on your way out to sea.
Overnight: cabin accommodation aboard the cruise ship
Day 3: At Sea (B, L, D)Spend your day at sea relaxing aboard the cruise vessel, where you'll hear fascinating lectures from onboard specialists – including ornithologists, marine biologists, historians, geologists and other experts. Enjoy ocean views portside or join one of several in-depth presentations on the history, geology and wildlife of the Antarctic region in preparation for your adventure to come!
Overnight: cabin accommodation aboard the cruise ship
Days 4-5: Falkland Islands (B, L, D)Explore the rugged landscapes of the Falkland Islands (Las Islas Malvinas), including the frontier-like Port Stanley – the largest British settlement. When you land on shore, socialize with friendly local residents and hike the rocky beachheads with your expedition guides. Keep a lookout for a rich diversity of flora and fauna including a treasure-trove of local birdlife such as Kelp geese and both rockhopper and Magellanic penguins.
Overnight: cabin accommodation aboard the cruise ship
Days 6-7: At Sea (B, L, D)Cruise across the Antarctic Convergence – the biological boundary that divides Antarctica from the rest of the southern seas – and enter the polar waters for the first time. Hear more shipboard presentations from the experts to prepare for upcoming Zodiac cruises and shore landings along the South Georgia coast.
Overnight: cabin accommodation aboard the cruise ship
Days 8-11: South Georgia Island (B, L, D)Enjoy the breathtaking sight of South Georgia Island – a remote wonderland where jagged snow-capped mountains rise straight from the sea and extend toward the clouds. Board a Zodiac landing craft, designed to land directly onto the cobble and ice-strewn beaches, where you should expect to walk through shallow water (rubber boots and parkas included) to reach the shore!
Once ashore, you can hike the rocky crags and beaches around the island, following in the footsteps of Sir Ernest Shackleton, or visit the whaling station where he was rescued. You'll see evidence of the old sealing days and marvel at a vast array of amazing animals as you listen to the odd barks of seals and squawks of penguins.
Over the course of four days, your expedition guides will take you to a series of landings at king penguin rookeries, abandoned whaling stations and Shackleton's lone gravesite. Keep an eye out for wandering albatross and giant petrels, and even the odd reindeer – introduced in the early 20th century by Norwegian whalers.
Choose from optional activities that may include a Zodiac cruise along beaches densely packed with fur seals, a visit to a whaling museum, kayaking in icy bays and beach walks to see 1,000-pound (455-kg) elephant seals!
Overnight: cabin accommodation aboard the cruise ship
Days 12-13: At Sea (B, L, D)Head south toward the South Shetland Islands and the Antarctic Peninsula with two more restful days at sea. Make the most of the ongoing educational presentations provided by the expedition specialists. Choose from plenty of activities to pass the time; hang out in the bar, relax with a good book or take your camera out on deck, scanning the horizon for whales and other marine life.
Overnight: cabin accommodation aboard the cruise ship
Days 14-17: Antarctic Peninsula and South Shetland Islands (B, L, D)Cross into the Antarctic Peninsula to experience the world's coldest, windiest, driest and iciest continent! As your cruise ship approaches the blue-tinged landmass, get your camera ready for awesome sights from the deck. Your captain and expedition team will announce sightings of minke and humpback whales along the way.
Depending on weather conditions during these four days, your expedition team will offer a variety of options – from zipping away on a Zodiac past magnificent icebergs floating in the cobalt waters of the Southern Ocean to dipping into ice-cold waters with a 'polar plunge' in Paradise Bay!
Hike up a craggy hill for an awe-inspiring view of Port Lockroy, watch glaciers calving near Danco Island or spend time on a secluded, pebble-strewn beach waiting for curious penguin chicks to approach. As you venture across the frozen landscape full of spectacular scenery, epic adventure and some of the world's most iconic wildlife, your expedition team will point out chinstrap, Adélie and gentoo penguins, as well as fur, crabeater and Weddell seals.
Overnight: cabin accommodation aboard the cruise ship
Days 18-19: Drake Passage (B, L, D)Prepare for notorious rough seas as you traverse the Drake Passage, a 500-mile-wide waterway separating the northern tip of the Antarctic Peninsula from the bottom of South America. But don't be surprised if it's smooth sailing across this legendary passage, where the massive flow of the Antarctic Circumpolar Current – also called the 'great ocean conveyer'– travels clockwise around the entire latitude.
Listen to a final series of lectures and look for wildlife from the ship's deck, including a variety of seabirds that circle overhead and whales that often swim the passage named after Sir Francis Drake.
Overnight: cabin accommodation aboard the cruise ship
Day 20: Ushuaia (B)After a final shipboard breakfast, return to Ushuaia and say farewell to your fellow passengers and crew. You'll be transferred to the Ushuaia International Airport for your flight home – unless you choose to linger in the world's southernmost city and explore more from there!