Experience Guatemala's top attractions, marveling at its stunning natural beauty and exploring its fascinating ancient history, on this 8-day tour. Discover the colonial architecture of charming Antigua before chilling out along the stunning shores of Lake Atitlán and its idyllic villages. Then dive into ancient Mayan history at the ruins of Tikal and Yaxha before capping the trip off with a hike to the summit of the country's Pacaya Volcano. This all-inclusive tour also includes 7 nights of accommodation, transport between all sites by private vehicle, entrance fees and meals as per the itinerary.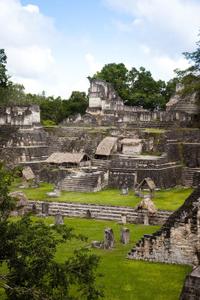 Get a taste for all that Guatemala has to offer on this 8-day trip spanning the country's most picturesque natural wonders and its fascinating history spanning thousands of years of civilization. Along the way you'll experience everything from handsome colonial cities to unspoiled mountain lakes and atmospheric Mayan ruins deep in the jungle.
Begin your Guatemala adventure with pickup at the airport in Guatemala city, continuing on an exploration of the country's greatest hits, starting with a visit to the cobblestoned streets of Antigua. After enjoying a sightseeing tour of this former colonial capital, continue from Antigua to Lake Atitlán, where you'll experience a private boat ride on its majestic waters, the shores ringed by volcanoes and pleasant towns. You'll also have the chance to experience incredible views from the heights of Pacaya Volcano during a 5-hour hike towards its impressive crater.
Your visit also includes time in Guatemala's northern reaches, where you'll investigate the amazing Mayan ruins at Yaxha, Iximché and Tikal, a UNESCO World Heritage site. Your exploration of this ancient Mayan sites will provide an overview of the culture's fascinating history and innovative building techniques
For a full tour description, please see the Itinerary section below.
Seven nights of accommodation are included at 4- and 4.5-star hotels with amenities including room service, business centers and swimming pools. Please note the hotels are subject to change, though they will still be comparable 4- or 4.5-star hotels.
Note:
pricing for each accommodation option is per group, not per person
Itinerary
Day 1:
Once you arrive at the La Aurora International Airport in Guatemala City, enjoy convenient transportation to your hotel in Antigua to gear up for your exciting 8-day guided Guatemala tour.

Overnight: Camino Real Antigua or similar in Antigua

Day 2: (B)
After breakfast, explore the charming colonial city of Antigua on foot with your knowledgeable guide. Visit some of the city's most beautiful churches, including the Baroque-style La Merced Church, San Francisco Church and Santo Domingo Monastery, which was once the biggest and wealthiest monastery in Guatemala. After lunch (own expense), visit a nearby coffee plantation, where you'll learn how Guatemalan coffee is made and sample some of the plantation's fresh coffee. After the coffee plantation tour, enjoy some free time in Antigua, where you can browse local shops or relax in your hotel room.

Overnight: Camino Real Antigua or similar in Antigua

Day 3: (B)
Enjoy breakfast before spending the morning hiking up Pacaya Volcano, the most active volcano in Guatemala. Admire impressive views of the Calderas Lagoon and the three nearby volcanoes -- Agua, Fuego and Acatenango. As you take an easy hike up Pacaya, your guide will tell you about the history of the active volcano and point out unique volcano vegetation. After your 5-hour visit to Pacaya Volcano, the rest of the day is yours to explore Antigua on your own.

Overnight: Camino Real Antigua or similar in Antigua

Day 4: (B)
After breakfast on your fourth day, visit Lake Atitlan, approximately an hour northwest of Antigua. You'll be transported in a comfortable coach to the famous lake. Enjoy a beautiful private sightseeing cruise across the lake to the Tzutujil village of Santiago de Atitlan. Hop ashore here to discover local village life of the Tzutujil Mayan people, and visit the main street filled with shops selling everything from oil paintings to woven baskets. Then, re-board the boat and cruise to the lakeside town of Panajachel. Spend some time in the town exploring Santander Street, the town's main strip filled with shops, craft stands and restaurants. You'll have time to stop for lunch (own expense) at a local restaurant before heading to your Panajachel hotel. The rest of the night is yours to enjoy!

Overnight: Hotel Atitlán or similar in Panajachel

Day 5: (B)
On your fifth day, have breakfast and head to Chichicastenango, located approximately 30 minutes north of Panajachel. Admire the beautiful landscape as you are transported north by a comfortable car. Walk through the town's narrow cobblestone streets and past its red-tiled roofs. In the main town plaza, visit the famous Chichicastenango open-air market, filled with locally made products, like ceramic pots, wood carvings and handmade goods, as well as fruits and vegetables. While you're in the plaza, visit the Iglesia de Santo Tomas (Church of Santo Tomas), located on the east side of the plaza.

Then, visit Calvary Church, a smaller version of Iglesia Santo Tomas, located on the west side of the plaza. After lunch (own expense), visit the archaeological site of Iximché, which was once a Mayan city. With your guide, explore the ruins' four ceremonial plazas, which are surrounded by tall temple structures and two ball courts. Learn about the history of this fascinating ancient site as you tour the area. After touring Iximché, you'll be transported to Guatemala City.

Overnight: Barceló or similar in Guatemala City

Day 6: (B, L)
Start your sixth day early with a flight to Flores, located in the region of Petén, to visit the Mayan ruin site of Tikal in Tikal National Park (Parque Nacional Tikal), a UNESCO World Heritage Site. Covering an area of more than 341 sq miles (550 sq km), this national park contains thousands of separate ruin structures scattered around, each full of fascinating history.

Explore everything from the Central Acropolis, a maze of courtyards and small temples, to Complex Q and R, where you'll see twin pyramid complexes with altars set in front of the temples. Visit the massive Temple I, the Temple of the Grand Jaguar, and learn about its historical importance from your guide. Take a lunch break at the park before continuing your exploration of the national park. At night, enjoy free time to explore Flores.

Overnight: Camino Real Tikal or similar in Flores

Day 7: (B, L)
After breakfast, visit the Mayan archeological site of Yaxha with your guide. Explore the scenic jungle landscape of this unique area overlooking the Yaxha and Sacnab lakes. As you follow your guide around Yaxha, learn about the history of this ceremonial Mayan site, which features more than 500 ancient structures. Spend time visiting various areas including pyramid temples, ball courts and elevated plazas. After touring Yaxha, you'll be transferred back to Guatemala City for an overnight accommodation.

Overnight: Barceló or similar in Guatemala City

Day 8: (B)
After your amazing 8-day tour, relax on the drive back to La Aurora International Airport in Guatemala City.