Enjoy a day of fun on-board the D-Boat, a renovated boat turned into an aquatic theme park, on this 6-hour tour from Antigua. Slide down the ship's waterslide, bounce on the trampoline or jump in the ocean off the ship's rope swing. Then take enjoy lunch and a selection of beverages at open bar. If you want to keep the fun going, continue with an optional visit to nearby Stingray City for a swim with these intriguing sea creatures.  This family-friendly day trip includes round-trip ferry transport to the D-Boat from Shell Beach, snorkel gear, snacks and unlimited open bar.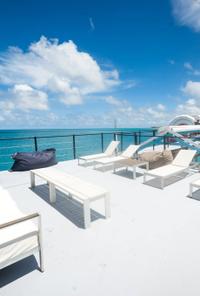 Climb aboard the D-Boat, a one-stop floating water sports park, for a fun-filled, family-friendly day of activities. Have your way on the ship's wealth of water rides or in the on-board pool, and then grab a seat for lunch and an open bar with unlimited well drinks, wine and local beer. Then continue your day with an optional visit to nearby Stingray City, where you can interact with the local marine life.

Depart from Antigua's Shell Beach in the morning for the quick 5-minute ferry ride to Maiden Island and then a transfer to the D-Boat, anchored just offshore. This former oil tanker, built in 1974, has since been gut renovated into the full-service restaurant, aquatic fun park and party boat.

Once you've climbed aboard this floating paradise of fun and adventure, prepare for a day of delight. Enjoy the whoops of kids and adults alike as they slide down the 25-foot (8m) waterslide, joining in if you'd like, or take a turn on the floating trampoline for some aerial antics. If you're feeling adventurous, take a turn on the rope swing, launching yourself off the deck and into the calm, refreshing ocean just below. Keeping watch over the fun is an onboard lifeguard, who will help ensure a safe time for everyone.

If you're looking for a more relaxing experience, stop by the D-Boat's swimming pool to grab some sun, or have a refreshing beverage, including unlimited open bar and soft drinks for the kids. An included lunch is ready for you when you start to feel hungry. 

Also included with your D-Boat visit is a snorkeling tour, allowing you an opportunity to check out the beautiful marine life that populates the waters near the ship. For those that are interested, an optional upgrade to visit Stingray City can purchased in lieu of the snorkel tour (details below).

At the end of your day, jump aboard the ferry for your return trip to Shell Beach.

Optional Stingray City Upgrade
After spending a few hours on the D-Boat, a transfer ship will pick you up, returning you back to land at Stingray City, where you'll receive a brief explanation of how to behave around the stingray to ensure their safety. From there, a speedboat will transport you to nearby coral reef, where you'll spend the rest of your afternoon. The reef's calm, shallow waters are home to numerous rays, whose dark bodies are visible against the bright white sand of the ocean floor below.

Watch the sleek motion of these graceful animals as they glide in the surrounding waters. Strap on some snorkel gear to observe these beautiful animals in their natural environment.

An onsite photographer will be available to capture the best moments, with photos and CDs available for purchase after the excursion. Back on land, clean up with a shower and grab an included rum punch or fruit juice before your return trip to the D-Boat. From the D-Boat you'll be transferred back to Maiden Island and finally to Shell Beach, where your day began.