Seek out Sri Lanka's native wildlife, including leopards and elephants, on a private safari at Wilpattu National Park. Aboard a comfortable, private 4x4 with a driver-guide, roam the forest, grassland, and lakeside trails of the island's biggest national park. Watch for Sri Lankan leopards, sloth bears, monitor lizards, and crocodile, and see everything from deer and wetland birds to turtles. Admission at own expense, with a choice of a morning, afternoon, or 12-hour daytime safari.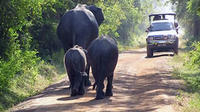 Book a morning, afternoon, or full-day safari, and meet your personal driver-guide at Wilpattu National Park. Head inside (own expense), board your private 4x4, and explore the dirt trails around the reserve, Sri Lanka'a biggest wildlife sanctuary.

Designated as a National Wildlife Park in 1938, Wilpattu lies in the island's dry zone and consists of natural villu lakes, grasslands, rocky outcrops, forests, and scrub. This diverse terrain harbors numerous animals, including 31 mammals and the main drawcards of the elusive Sri Lankan leopard, sloth bears, and elephants.

As you explore, learn about the reserve's geography and species from your guide, and scan the forests, grasslands, lakes, and brush. Keep your camera ready for sightings of leopards, usually spotted near the lakes, and sloth bears; and watch for elephants, deer, jackals, wild pig, and water buffalo.

Look, too, for wetland birds like garganey, spoonbills, and egrets, including migratory species (November-March), and perhaps spot reptiles like mugger crocodiles, monitor lizards, snakes, and the rare Indian star tortoise. Other species include pond and soft-shelled turtles, and varieties of butterfly like the Blue Mormon and Crimson Rose.

Your safari concludes when you disembark your 4x4 at the park entrance.