Set sail on a 2-hour private felucca tour of Aswan's Botanical Gardens, and explore Kitchener Island with an Egyptologist. Land on the lush shores of the garden isle, whose 16.8 acres (6.8 hectares) of palm trees, sandalwood and exotic plants were first planted by a legendary British military leader. Learn the story of the island in a small botanical museum, and relax on this tranquil and shady Nile oasis.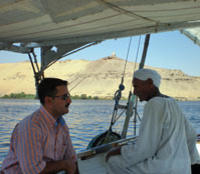 From your vantage point on the felucca you will see Agha Khan Mausoleum, situated on the top of a hill, commanding a magnificent view of Aswan area. On the West Bank the desolate hillside is dotted with the Tombs of the Nobles which your qualified Egyptologist guide will give a brief history of as you sail by.

Your felucca ride to Kitchener Island takes around 20 minutes, depending on wind speed and Nile currents, and on arrival your guide will accompany you to Aswan Botanic Gardens. Visit the small botanical museum before strolling through the tranquil gardens which are home to many exotic species of plants and trees imported from all around the world. The Aswan Botanic Gardens are a quiet and peaceful oasis from the hustle and bustle of everyday Egyptian life, and young couples and families from Aswan often spend their day enjoying the island.

Returning to your felucca you will return to Aswan's East Bank, riding the currents and winds on a relaxing sail with the expertise and knowledge of your local felucca captain!