Explore Turkey's Turquoise Coast and the Aegean Islands on this independent 7-night cruise. Set sail from Athens aboard a motor sail boat and enjoy a week at sea, hopping from one gorgeous island to the next. Stay three nights at sea and dock the other four nights on Patmos, Mykonos, Tinos and Athens. You'll also visit Kusadasi in Turkey, home to the classical ruins of Ephesus. Enjoy a mixture of free time and optional excursions, and relax with cabin accommodation and select meals included.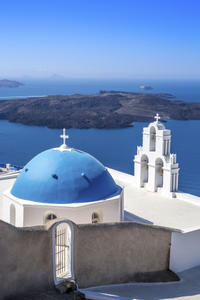 Meet your guide and fellow group members on board your motor sail boat — the comfortable Panorama II. This intimately sized vessel sleeps 50 at most, ensuring you enjoy personalized service from your friendly crew. The boat offers spacious en-suite bedrooms plus an outdoor bar, below-deck lounge and expansive sun deck that's perfect for topping up your tan as you drift over the shimmering Aegean.

Your cruise focuses on the sublime Greek Island archipelagos of the Cyclades and Dodecanese, where rugged islands fringed by whitewashed towns and lovely bays cry out to be explored. Plus, your boat stops at Kusadasi on Turkey's Turquoise Coast, where an optional excursion to the magnificent ruins at Ephesus awaits.

Along the way, there's plenty of freedom to relax as you wish. Chill out on the sun deck and enjoy frequent stops to swim, and savor the buzzing nightlife, bars and restaurants of your destination. Apart from Day 1 and Day 8, two meals each day are included on board: starting with a delicious American buffet breakfast and then lunch or dinner. Day 7 is the exception, when all three meals are included. Two barbeque lunches served on deck are part of the package!
Itinerary
Day 1: Athens (D)
Board your boat in Athens in the mid-afternoon and enjoy a welcome drink with your crew and fellow passengers. Leave Athens and sit down to a welcome dinner as you cruise southeast towards Ios. Spend the night at sea.

Overnight: at sea between Athens and Ios

Day 2: Ios – Santorini (B, D)
After breakfast, enjoy a swim at Manganari Beach on Ios, one of the most beautiful bays in Greece. Then, continue to Santorini, a spectacularly beautiful island formed from the half-submerged crescent of a long-ago volcanic eruption.

Dock at Santorini port and take the cable car to its capital, Fira, whose white houses ice a cliff top above the sea-filled caldera (volcanic bay). Explore this chic town at leisure or join an optional excursion (own expense) to Akrotiri. Buried in lava in the 2nd millennia BC, this ancient city has been excavated to reveal beautiful frescoes, furniture and artifacts. The tour also includes time in the cliffside village of Oia, famed for its sunset views over the caldera.

Return to your boat for dinner on board as you cruise to Patmos. Spend the night at sea.

Overnight: at sea between Santorini and Patmos

Day 3: Patmos (B, D)
Savor breakfast on board as you glide into Patmos, one of the prettiest of the Dodecanese Islands. This holy place boasts two UNESCO World Heritage sites: the atmospheric hilltop Monastery of St John and the Grotto of St John, where the saint is said to have written the New Testament Book of Revelation. After mooring at the port of Skala, join an optional excursion (own expense) to admire these religious gems and the charming capital of Chora spread beneath the monastery.

In the afternoon, enjoy time free to explore the sun-washed streets of stylish Skala or head to a beach to bathe in the aquamarine waters. Your boat remains docked at Patmos overnight, so after dinner, perhaps head out to enjoy Skala's laid-back nightlife.

Overnight: Patmos port

Day 4: Patmos – Kusadasi – Samos (B, D)
Leave Patmos early and enjoy breakfast as you sail to Kusadasi on Turkey's Turquoise Coast. This vibrant resort is the gateway to Ephesus, one of the Mediterranean's greatest classical sites. Enjoy an optional excursion to see its well-preserved Greco-Roman ruins, which offer a captivating insight into life in classical times. Gaze at the still-standing façade of the library and walk the marble-paved avenue where Cleopatra and Mark Anthony rode in procession more than 2,000 years ago.

After lunch (own expense) and time at leisure, cruise to the island of Samos, known for its lushly forested hills, peaceful bays and picturesque villages. Moor at the charming port of Pythagorion in the late afternoon and then do as you please. Maybe swim from a local beach or amble around the port's quaint quayside shops and cafes.

In the evening, enjoy dinner on board before you set sail for the Cyclades Islands.

Overnight: at sea between Samos and Delos

Day 5: Delos – Mykonos (B, L)
Enjoy breakfast as you drift towards idyllic, uninhabited Delos, one of the smallest of the Greek Cyclades Islands and a UNESCO World Heritage Site in its own right. An important mythological site in ancient Greece, it's famous for its impressive theater, statues and mosaics. Admire the ruins against the glittering sea-and-sky backdrop. Rejoin your boat and, after a swim at a nearby bay and onboard lunch, sail to Mykonos.

Dock at Mykonos Town, where wooden-balconied houses, arty boutiques and trendy shops line the tangled lanes. Meander around this charming place at leisure, maybe seeing its archaeological and maritime museums and visiting a traditional bakery, which has produced fresh bread in a wood-fired oven since the 15th century. Later, why not do as the locals do and enjoy some ouzo and meze appetizers before sampling the town's famous nightlife?

Overnight: Mykonos port

Day 6: Mykonos – Tinos (B, L)
Early in the morning, cruise north to Tinos as you eat breakfast. This untouched island boasts terraced hills dotted with dovecotes and sleepy villages, as well as extensive marble quarries — the source of its marble-carving industry. Stop at the picture-postcard beach of Ysternia to swim and linger over a lunchtime barbeque on deck. Afterward, sail into Tinos harbor, admiring the whitewashed houses circling the quayside as you approach.

Spend the afternoon discovering more of this beautiful island on an optional excursion (own expense). View Tinos' quaint hamlets and a basket-weaving workshop, and visit a marble-sculpting studio in Pyrgos, where the houses are adorned with marble carvings.

Your boat remains at Tinos overnight, enabling you to go out in the evening for dinner and enjoy the nightlife.

Overnight: Tinos port

Day 7: Tinos – Kythnos – Cape Sounion – Athens (B, L, D)
Relax over breakfast as you cruise to Kythnos, a mountainous island blanketed in olive groves. Stop to swim at scenic Kolones Bay and enjoy a barbeque on the beach. Your boat then sails for Cape Sounion, the southernmost tip of mainland Greece, where the headland is topped by the majestic Temple of Poseidon. Enjoy farewell cocktails and dinner in view of this dazzling pillared temple, and then, later in the evening, cruise back to Athens. Spend the last night docked at the stylish Marina Zea.

Overnight: Marina Zea in Athens

Day 8: Athens (B)
Your tour finishes this morning. Enjoy breakfast and then say your goodbyes to your crew and fellow travelers before leaving your boat.