Venture around the North Island in your very own luxury vehicle on this 8-day private tour from Auckland. You'll visit Coromandel, Whitianga, Rotorua, Tongariro National Park and Wellington, with sightseeing tours, nature walks, natural hot springs and beach strolls sprinkled into your itinerary, plus plenty of free time for you to explore on your own. Learn about New Zealand wildlife and Maori culture from a knowledgeable private guide who takes you to hot spots as well as hidden gems. Enjoy seven nights' accommodation in your choice of 3- to 5-star hotels including breakfast.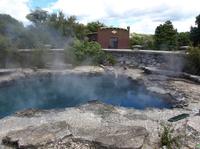 This 7-night private tour takes you from Auckland to Wellington, with overnight stays and sightseeing tours along the way. See the North Island's incredible beaches, geysers, mud pools and volcanoes on visits to Rotorua's Wai-O-Tapu Thermal Wonderland, Tongariro National Park and the Coromandel Peninsula.
Relax with private transport and the personalized attention of your private guide, who takes you to the region's main highlights and some hidden spots that coach tours don't normally access. Visit the coastal town of Whitianga, drive through the Bay of Plenty and hop aboard the Driving Creek Railway. During your free time, your guide can recommend local dining venues and attractions.
Itinerary
Day 1: Auckland
You'll be met in Auckland by your private guide to begin your 8-day adventure. Start with an Auckland city tour, with sights including Mission Bay, where you can see beautiful pohutukawa trees, and the famous Auckland Harbour Bridge, where you'll see the exclusive Ponsonby Yacht Club.

You'll also enjoy views of Mt Eden, one of Auckland's most famous volcanic craters. After your tour, stroll along the waterfront and enjoy a seafood dinner (own expense).

Overnight: Hotel in your selected category (Bronze, Silver or Gold) in Auckland

Day 2: Auckland – Whitianga (B)
After breakfast at your hotel, hop in your private, luxury vehicle and relax on a 4-hour drive which starts heading south and curves up around the Firth of Thames to the Coromandel Peninsula, one of the key locations during New Zealand's gold rush in the 1800s. You can choose to stop here and walk through a kauri forest to learn about the significance of this ancient tree.

In the town of Coromandel, hop out of your vehicle for a trip on the Driving Creek Railway, New Zealand's only narrow-gauge mountain railway.

Continue driving along the scenic inland route to the coastal town of Whitianga, known for its palm-lined Buffalo Beach. You'll spend the next two days in this town.

Overnight: Hotel in your selected category (Bronze, Silver or Gold) in Whitianga

Day 3: Whitianga (B)
Your third day is yours to spend as you please. Enjoy breakfast at your hotel and then choose from a variety of activities such as kayaking, fishing, hiking and boat trips (additional activities at additional cost).

Don't miss a visit to legendary Hot Water Beach, whose name comes from underground hot springs that filter up through the sand between the high and low tides.

Overnight: Hotel in your selected category (Bronze, Silver or Gold) in Whitianga

Day 4: Whitianga – Rotorua (B)
After breakfast, drive south through the kiwi-growing district of New Zealand, the Bay of Plenty, known for its mild year-round climate. Visit a kiwi farm here to get a close-up look at how this fruit is grown.

Arrive in Rotorua in the late afternoon. Enjoy an easy walk through the wonderful redwood forests, tour a thermal mud pool reserve, and view Rotorua's stunning lakefront and Government Gardens. At night, you have the option to attend a hangi, a traditional Maori concert and dinner that lets you experience traditional local culture (own expense).

Overnight: Hotel in your selected category (Bronze, Silver or Gold) in Rotorua

Day 5: Rotorua (B)
There are many activities available to you in this lake-front city. After breakfast, take a gondola ride, go for an exciting flight over volcanoes, or treat yourself to a soak in Rotorua's Blue Baths, the perfect way to unwind (additional activities at own expense).

Overnight: Hotel in your selected category (Bronze, Silver or Gold) in Rotorua

Day 6: Rotorua – Tongariro National Park (B)
Start your morning with breakfast and then head south through Wai-O-Tapu Thermal Wonderland, an active geothermal area at the southern end of the Okataina Volcanic Centre in New Zealand's Taupo Volcanic Zone.

You'll be amazed by the stunning geothermal activity in this place, which features New Zealand's largest thermal mud pool, sinter terraces and colorful hot and cold natural pools.

After your time here, continue driving south, stopping at powerful Huka Falls before reaching Lake Taupo, New Zealand's largest lake. Winding your way around the lake, you'll arrive at Tongariro National Park in the evening for your overnight stay. Your hotel is nestled in an area boasting views of three volcanoes: Mt Tongariro, Mt Ruapehu and Mt Ngauruhoe.

Overnight: Hotel in your selected category (Bronze, Silver or Gold) in Tongariro National Park

Day 7: Tongariro National Park – Wellington (B)
If you're feeling adventurous after breakfast, your guide can lead you on a nature walk through the park to expose you to the local flora, fauna and wildlife.

Hop in your vehicle and drive south to Wellington, where you'll take a sightseeing tour of New Zealand's capital city. Enjoy views of Mt Victoria, the harbor and the surrounding mountains, and visit the New Zealand Parliament Buildings and the Te Papa Museum. In the evening, wander through the bustling streets of Wellington and enjoy a meal on the waterfront (own expense).

Overnight: Hotel in your selected category (Bronze, Silver or Gold) in Wellington

Day 8: Wellington (B)
Your tour will conclude on your eighth day. Reminisce on your amazing experience over breakfast and then continue touring Wellington on your own or be driven by private vehicle to the Wellington airport or train station for your next journey.

Hotel Categories:

Bronze-level accommodation:
Clean, comfortable value-for-money accommodation with private facilities.
Auckland: Hotel Grand Chancellor Hotel (standard room)
Whitianga: Baileys Motel
Rotorua: Alpin Motel
National Park: Skotel Alpine Resort
Wellington: James Cook Hotel Grand Chancellor

Silver-level accommodation:
Full-facility hotel with emphasis on comfort and personalized service. Guestrooms offer more extensive amenities.
Auckland: Hotel Grand Chancellor (one bedroom apartment with harbour view)
Whitianga: Beachside Resort
Rotorua: Novotel Lakeside Rotorua
National Park: Chateau Tongariro (standard room)
Wellington: Abel Tasman Hotel

Gold-level accommodation:
Superior properties providing excellent locations and service.
Auckland: Sofitel Auckland Harbour
Whitianga: Admiralty Lodge 5-Star Resort
Rotorua: Regal Palms 5-Star Resort
National Park: Chateau Tongariro (executive spa room)
Wellington: Bolton 5-Star Hotel